Why graphic design is scary… and why you shouldn't care!
Graphic design is often seen as a scary process.
The top three worries business owners have about hiring graphic and website designers are:
"What if I don't like any of their designs?"
"If I pay all that money and then I don't like it, what happens?"
"What if I pay all that money and my customers don't like it?"
Scary stuff, but you're right… even though you're not an expert, you know a logo that represents you and your business has to be something you feel proud to own. It also has to be liked by your customers too. In short, it has to WORK FOR YOU.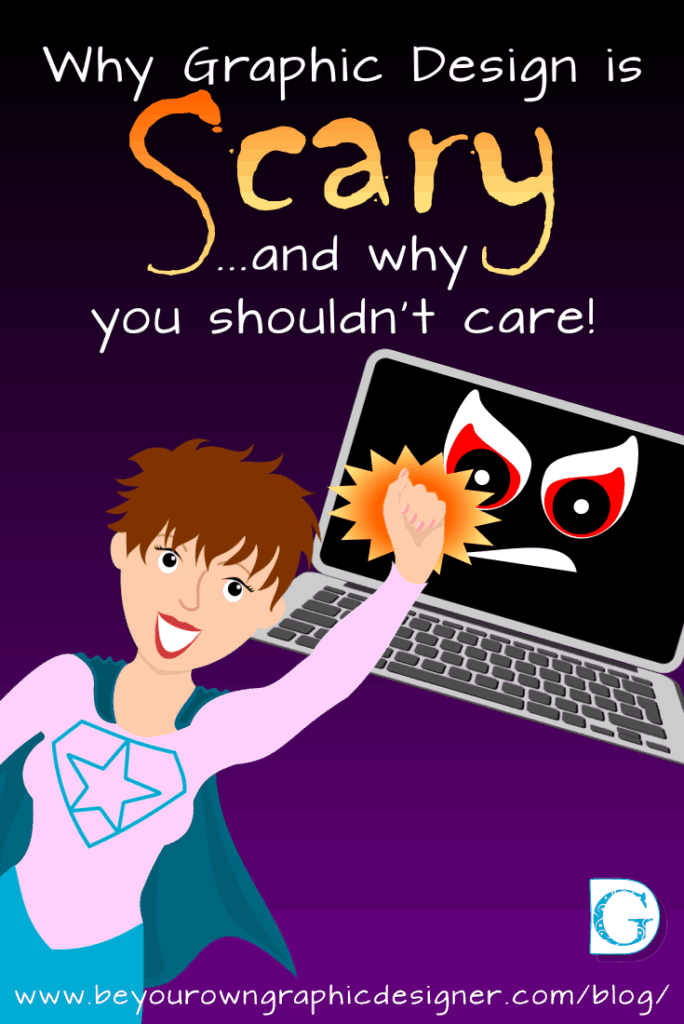 So here are our five TOP TIPS for getting what you want from your designer…
Tip 1: K.I.S.S. - Keep It Stylishly Simple!
This is key for great branding.
A good designer knows a simple design, using strong colours and shapes with a readable typeface proclaiming your business name will get you remembered by your customers. Especially if you roll out that design into all your branding and promotional activity.
This will also mean more ongoing work for the designer, so it becomes a win-win situation. You get strong branding your customers will remember and the designer gets paid every time you need a new graphic.
Choose two specific colours (get Hex codes for your particular shades - read this blog to find out about Hex codes).
Pick one main typeface and one secondary typeface (at least one of which should be a sans serif face - to understand what a sans serif face is read Trap 5 in this blog).
Tip 2: It's SO pretty…
Beware…never let your head be ruled by 'pretty' or 'shiny'.  Of course, there's nothing wrong with pretty or shiny - as long as the design WORKS. This MUST be your measure of how good the design is.
A good designer knows this and will strive to keep your website, social media and print promotions as simple as possible using the elements of your brand as outlined above.
Good design will lead the customer through your offerings, be they on or offline, pointing out areas of interest to them and highlighting the offers and promotions you want them to see. Your designer will ask you what you want those to be.
Great copy (that's the words) will read as though you're actually talking to your customer, and this is why your designer will usually ask you to write the words yourself.  It's best if it sounds natural and like you.
Tip 3. Design awards are nice - but they don't pay the rent!
Hiring big agencies who've won this or that award for fantastic designs and promotions for major players in your field are likely to be way out of your price league. However, as a business owner, you'll know the type of things that work for the most successful companies in your area of expertise and be able to work with your designer to extract the essence from them. That way you can make something unique that you like.
Make sure your designer offers you more than one option, ideally at least three different designs.
When you've three designs you like, ask your customers if they think they're memorable, on message, readable, too similar to your competition or ambiguous.
Then let your designer know so he or she can incorporate some of the best of these ideas into your artwork.
Don't get sucked into thinking your website/logo/social media page/branding should be unique, edgy, rule-breaking and design award-winning (unless you're the design agency, of course). In fact, it's very likely to just confuse your customers, who'll go somewhere else where they feel less challenged.
(See tips 1  and 2)
Tip 4. Look at the Big Picture
Were you to ask a hairdresser how you could improve your life, he might offer you a haircut.  A car salesman may suggest a luxury car would help your image and a gym owner would suggest you tone up a bit. A hotel owner may suggest you need a relaxing break.
So, what do you think a designer will say?  "You need a new design."
But are you SURE you need a new design?
Before you immediately re-design anything look at all the other things in your marketing mix - Product, Price, Promotion, Place, People (you and your co-workers) and Public (your customers).
You may well find that it's not your design that needs tweaking after all.
Tip 5. Get personal with your customers!
Running a successful business is so much more than just opening your doors and waiting for customers to come and throw their money at you.
These days, relationship marketing is critical to your success and this means posting regular, interesting, visually engaging content on social media. In order to do this, you need to have access to a steady stream of images to go with the content you want to present to your audience.
It also means that as any content is updated, the associated images must also be updated.
It's always great to let customers know what you look like as well so, if you can, employ a photographer to take regular photos of you throughout the week… and ask your designer to put them in a Facebook or Twitter-sized box for you…
AAAAARGH!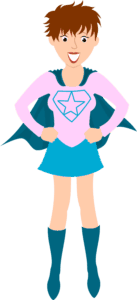 … listen, forget all that…as you'll be doing most of this anyway, why don't you just log on to Be Your Own Graphic Designer and see how easy it can be for you to take control of your own branding? Become your own superhero graphic designer!
Learn how to use Canva.com with either their or our images
Find out how to build your brand using the K.I.S.S. principle on our blog
Learn the key principles of graphic design - BREAD
See how easy it is to manage your own social media relationship marketing - and how to measure the results
Join our free Facebook Group - Social Media Made Stylishly Simple to find exclusive training and tips.
…and save lots of money into the bargain!
Why not let us know your graphic design experiences - good or bad - by commenting in the box below? We'd love to hear from you.