Need to Design for Your Social Media? Use Your Loaf!
No graphic design training but you need to design for your social media and create images anyway?
If you need to look like you hired a professional designer, (but it's you really) you need to know about these 5 designer hacks as used by branding professionals.
Images rule our world, and this is even more so online. An active and engaging social media presence is right up there with the company website on the 'must have' list.
But what is not often talked about is the fact that you, or perhaps one of your employees, are finding keeping up with it all a bit overwhelming.
Because social media is accelerating all the time, it's no wonder that it might seem like a full-time job just to get your head around it, and when you see your competitors attracting a steadily increasing band of followers day in, day out to their posts it's easy to feel the mountain is too big to climb.
After all, you also have a business to run…
The good news is that if you need to design for your Social Media, there are actually tried and tested rules that you can follow.
These are the everyday tricks used by professionals to maintain a brand, and they are actually quite easy to master.
They are known by the acronym B.R.E.A.D.
Contrary to popular opinion, you do not have to be able to draw and you do not have to cram an evening course into your already hectic schedule. Nor do you have to invest in expensive design program subscriptions or lengthy training courses to learn how to use them.
In fact, even if you can't draw an orange without a template; if typefaces come in fat, thin or with flicks but you need to look like you hired a professional graphic designer, then read on…
"I need branding that gets my business noticed… but don't have an agency budget…"
Need branding that gets your business noticed... but don't have an agency budget? Use your loaf! #BYOGD
Click To Tweet
We know you can't afford to hire a professional design agency every time you need a little bit of design work done (It would be great but we live in the real world, right?) and don't worry, we are not talking about changing your logo or anything else expensive.
This is about the little but oh so effective design tweaks you can do yourself that will make your posts, covers, headers, blogs, newsletters, promotions and images stand out and work for you.
We'll share our experience and show you how to create your social media images yourself!
Your customers will believe you hired a professional design and marketing agency… and it won't take hours out of your day or £££ out of your budget either!
"But I can't draw…"
Here's a secret… Lots of modern graphic designers can't either…
Now I'm 'old school' and I did go to art-school before doing my degree.  That's why I can share with you over 1,500 unique colour-coordinated illustrations that you can download and use in your own social media posts. Not only that, but you can request an image that I've not drawn yet… if I think others in the group would like them too, I'll add them to the Collection!
So what you WON'T be getting from Be Your Own Graphic Designer is drawing tutorials or logo design; nor am I going to go in depth with Illustrator, InDesign, Photoshop, or any of the myriad of expensive and complicated professional programs available.
(Do we hear a sigh of relief there?)
However, what you WILL get is easy to follow and implement insider information on:
How to make your posts and print look better
How to keep your branding consistent
The most important page layout design secrets professionals use
How to recognise why one design 'works' while another 'just doesn't'
How to do it all on a shoe-string budget using FREE easy to use software
Where to find easy to download images to use in your work
How to size them right first time, every time
How to design your stuff quickly (you have other work you need to get onto I'm sure!)
Advice on the best social media platforms for you
How to use the ones you choose
What to post and how often to post it.
And
When you join our FREE Facebook Group you get to ask questions (no question is too basic!) and interact in a safe, promo-free environment.
We also have downloadable monthly social media planners. These are full of ideas for when you're not sure what to say.
There are even done-for-you social media images for those days when you need something quick and fuss-free to help you get on to what you really need to be doing with your day!
Use your loaf!
B.R.E.A.D. stands for the 5 main areas of graphic design
Branding
Relationship
Echo
Alignment
Difference
I'm going to be posting a series of short blogs over the next few weeks which looks at each of these elements in more detail and shows YOU how you can use them to improve your branding online and create great social media images.
Use your loaf! B.R.E.A.D. stands for the 5 main areas of graphic design: Branding; Relationship; Echo; Alignment; Difference #BYOGD
Click To Tweet
You'll be able to click through to them directly from our free to join the Social Media Made Stylishly Simple Facebook Group and I'd love you to join us and find out how straightforward understanding these five basic principles of graphic design can be.
So if this sounds like something that will make your days easier to manage – you are in the right place!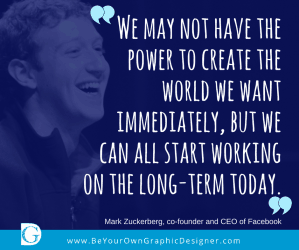 A quote we like from Mark Zuckerberg, co-founder and CEO of Facebook, says:
"We may not have the power to create the world we want immediately, but we can all start working on the long-term today."
I'd love to have you on board!
Just follow the link above or click the FREE FACEBOOK GROUP bar above the Menu at the top of this blog. Then, pop your name and email address in the sign-up form and you're done!
There's even a FREE GIFT of social media images in your own brand colour waiting for you when you join.
Takeaway tip:
The savvy social media user looks at what the professionals are doing then finds a way to make those changes for their own brand.
Takeaway tip: The savvy social media user looks at what the professionals are doing then finds a way to make those changes for their own brand.
Click To Tweet
Note:
For the purists amongst you, Be Your Own Graphic Designer is NOT in any way trying to replace three years+ of degree level training and lots of agency experience. That's what art schools and universities are for. Speaking as someone who enjoyed getting my graphic design degree and marketing post-grad, jolly fine places they are too! (My daughter always cringes when I use words like 'jolly' but hey, I'm British, what do you expect?) As for Kim, with years of marketing in both the UK and USA and running a successful Social Media Marketing business in her own right, you know you are in safe, experienced hands.
Come on over and say Hello!
#BYOGD