Canva Quick Tips - Create your own Canva Templates
This Canva Quick Tip looks at how easy it is to create your own Canva Templates with just a couple of clicks!
Transcript - Create your own Canva Templates
This week's Quick Tip is to show you how to create your own templates. Going to go across to my design screen and show you how easy it is to do it. I'll be incognito in this video because I need to access the instructions at the top right of my screen. I'm on my design screen now and these are the templates that we produced to go into our content blog including free templates which you can download very easily and then use yourself.
How to Create Templates
But now I'm going to show you how you can create templates for yourself. Once you've got your designs, you can do it for an individual design as well, it's very simple to create a template and templates are incredibly useful. You can create template backgrounds that you can share with your team to ensure that you have a consistent brand look and feel on all your social media posts, or you can do them to sell.
Selling Canva templates has become a big business and it's great if you've got some really good design skills. But you need to be careful because it does take marketing to do it. It takes time and effort but I'm just going to show you how to create the template yourself.
Click on Share
And I'm just going to click on Share. And this is now where everything is moved to in terms of sharing and downloading in Canva, which is a very recent change. I'm going to click on Share, and this is where Download has moved to in case you were wondering.
Because I've used it already Template link is up here. But when I first went to the screen I had to go to More to find this Template Link.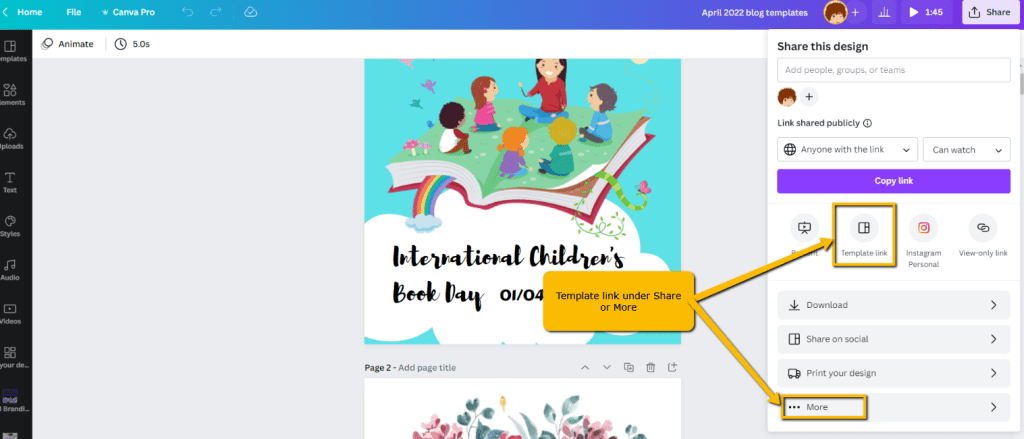 Template link under More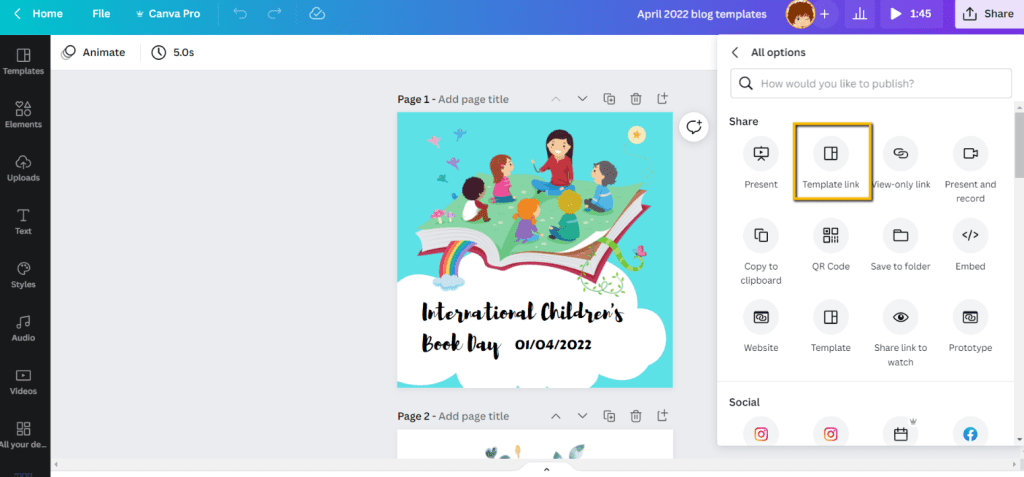 Create Your Own Canva Template link
It's so simple. All you do is click on that Template Link and then you end up with this very long URL. If you copy that and then go to a new tab and you'll get the templates that I've just shared.

As I demonstrated in last week's video, all you then have to do is click 'Use template', and it will open up in your own Canva account. As you can see, it's really simple to do and I hope that helps. Catch up with you next week!
You can create templates in a free Canva account but if you'd like a 30 day free trial of Canva Pro, click this link.
Subscribe to us on YouTube
Don't forget to click this link to subscribe to our YouTube channel for more of these Quick Tip videos.
Happy designing!