20 Tips for Growing Your Social Media Presence Fast!
Here are my top 20 tips for growing your social media presence and following fast. You don't need to try them all at once but implement them gradually and see the difference it makes. Here's an infographic summarising my top 20 tips but there's more detail below so read on!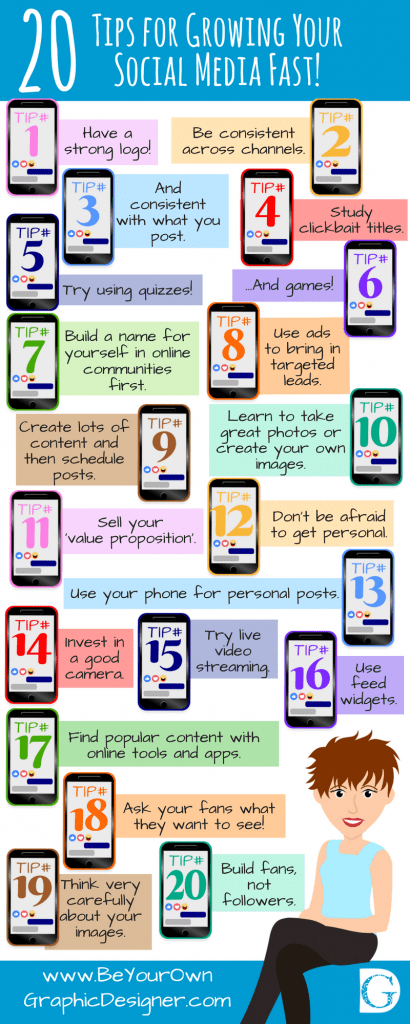 Tip #1
Have a strong logo!
Your logo game needs to be strong if you're going to succeed on social media. In an ideal scenario, people should consider following you on social media based on your logo and brand name alone.
Tip #2
Be consistent across channels.
Have the same logo on Facebook as you do on Twitter. The same goes for your cover image, your profile name, tagline and bio.
Tip #3
And consistent with what you post.
Likewise, consistency is crucial to each channel. People need to know what they can expect from you.
Tip #4
Study clickbait titles.
These work for a reason. Don't post spam but try to learn what it is about these titles that make people click. A good place to start to improve your headlines is by reading the ones in the tabloid newspapers!
Tip #5
Try using quizzes!
Quizzes are fantastic for increased engagement as well as more sharing!
Tip #6
And games!
Games keep people on your pages even longer! They also always impress your visitors.
Tip #7
Build a name for yourself in online communities first.
If you want to post your content in groups on either Facebook or Google+, then you should spend time in that Group first being helpful and building trust. You can join our Facebook Group, Social Media made Stylishly Simple, for free but please do follow the guidelines.
Tip #8
Use ads to bring in targeted leads.
Adverts on Facebook can be very effective, especially when targeted toward specific individuals with relevant interests, hobbies and careers!
Tip #9
Create lots of content and then schedule posts.
To make sure your social accounts never are left for extended periods without any activity, try writing lots of content first and then setting it to post automatically.
Tip #10
Learn to take great photos or create your own images.
This will be a huge boon on all your social media sites! Check out the video and step-by-step instructions Sammy did on how to create a social media post using Canva. It was done for St Valentine's Day but can be applied to any event or post you want to make.
Tip #11
Sell your 'value proposition'.
Know why people are interested in your niche. How does your product/website make people's lives better?
Tip #12
Don't be afraid to get personal.
A personal brand can be a very effective way to build familiarity and trust with your visitors.
Tip #13
Use your phone for personal posts.
Having a phone on you that's set-up with your business Twitter, Facebook Page and other social media sites is very handy for posting ideas or funny photos that inspire you throughout the day.
Tip #14
Invest in a good camera.
This is the first and simplest way to make your photos much better. The cameras on most modern mobile phones are pretty good though and are also good for videos!
Tip #15
Try live video streaming.
It's very exciting and direct and you may need to bite the bullet and learn how. It's perfect for giving your audience a chance to get to know you.
Tip #16
Use feed widgets.
Show your social media feeds right on your WordPress blog's sidebar!
Tip #17
Find popular content with online tools and apps.
If you're posting third-party content, then you can use tools like BuzzSumo or DrumUp.  You can see what's currently trending or matches the content your audience is interested in and are therefore very likely to get likes and shares.
Tip #18
Ask your fans what they want to see!
Your social media followers aren't only useful for marketing. They can also be excellent for market research and if you ask them what they would want to see from you, then you have essentially a foolproof way to sell.
Tip #19
Think very carefully about your images.
Don't just post whatever stock images you can dig up. Along with your title, images are one of the key things that will attract people to your posts!
Tip #20
Build fans, not followers.
Ultimately, the aim is to build true fans who are as passionate about your brand as you are!
As I said before, you don't have to use all the tips above for growing your social media presence and following but even doing a few of them will make a difference.
Takeaway Tip:
Use our 20 top tips for growing your social media and see how quickly you get results!
Use our 20 top tips for growing your social media and see how quickly you get results!
Click To Tweet
If you like the images in our blogs, these elements are all available for you to buy and download from our Collection, together with instructions on how to make your own images in our How-To section.
And remember, I'd love to hear from you, so please leave a comment below or in Social Media Made Stylishly Simple our free Facebook Group.