How to Use Images with Your Blog
In order to bring your blog posts to life, it's really important to use images. Images add interest, colour, and even more understanding to the reader of the information you're trying to convey. There is a lot to know though about how to use images to ensure you get the most from them.
According to Jeff Bulas, there are 6 reasons why you should include images in all your marketing, including blogs. These are:
Articles with images get 94% more total views;
Including a Photo and a video in a press release increases views by over 45%;
60% of consumers are more likely to consider or contact a business when an image shows up in local search results;
In an e-commerce site, 67% of consumers say the quality of a product image is "very important" in selecting and purchasing a product;
In an online store, customers think that the quality of a product's image is more important than product-specific information (63%), a long description (54%) and ratings and reviews (53%);
The engagement rate on Facebook for photos averages 0.37% where text only is 0.27% (this translates to a 37% higher level of engagement for photos over text).

Understand Copyright Laws
You can't just find any image you want by searching on Google and using it. It's important to understand how copyrights work. Read the fine print no matter where you find the image so that you get permission and give credit appropriately.
Where to Find Images
You can buy royalty free images from stock photo sites like iStockPhoto.com and Fotolia, or you can find free images from Unsplash or Pexels. These are only a few examples.
Royalty free though doesn't mean an image is free. It just means you can pay one time and, if you use it according to the licensing agreement, you don't have to pay per view. That usually means making sure you credit the originator.
Formatting Images Properly
You want to ensure that your images aren't too big to suck up bandwidth and make your pages load slowly. If you use WordPress, you can get a plugin for images like ShortPixel which will to help ensure that images are sized right for the browser viewing it. However, knowing the size you need when you create your image will save you time and speed up your site.
Ensure That Your Images Relate
Adding images to your blog posts will, if you choose right, make your blog posts come to life for your audience. If the image advances the story of your blog post, it's going to mean a lot. They say an image is worth 1000 words, and it's true if you choose well.
Add "ALT" Tags to Your Images
Many bloggers think that alt tags, also known as alt text, are old-fashioned and unnecessary. However, if you want Google to index your images correctly, you'll need to add the alt tags/alt text as well as a good description.
You should also use keywords in your description that fit your website and blog post.
Here's a screenshot example from a previous blog: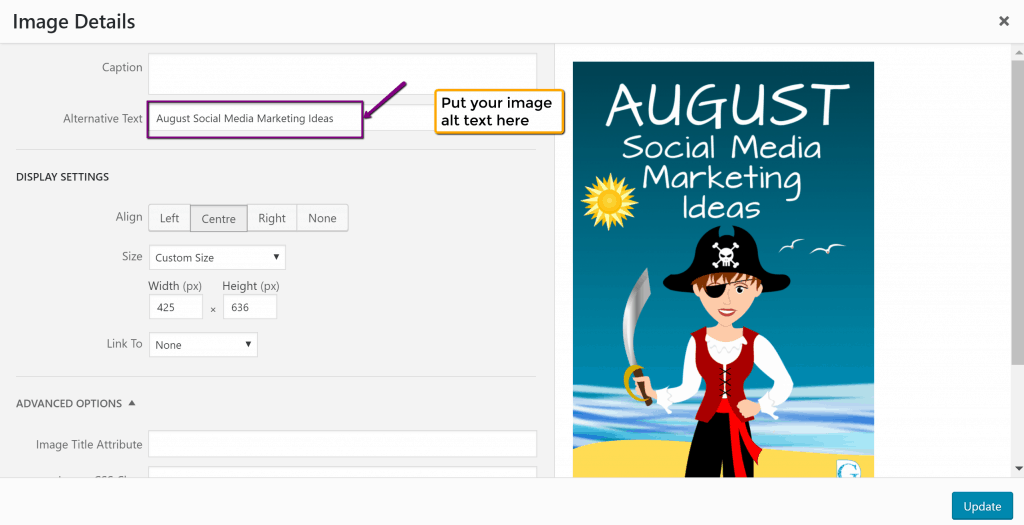 Keep Pictures on Your Own Server
It's tempting to store images on another server because of space. However, it's usually best if you keep the images for your blog on the same server. If you use WordPress, just upload them to the Media section to ensure fast loading.
Use Screen Shots or Make Your Own Images
Sometimes, the best images are the ones you create yourself.  Using screenshots is particularly helpful if you are creating a how-to post. Your screenshots will help your reader to follow the directions carefully. I've used a couple of screenshots in this blog but also take a look at our blog, How to create social media posts quickly and easily, and you'll see what I mean.
You can make your own images easily by taking pictures with your phone and using software like Canva.com to edit the picture for posting on your blog. We describe exactly how you can do exactly that in How to create social media posts quickly and easily so well it's worth a read!
If you want to create your own unique images use Canva and our graphics in The Collection.  We have over 2,000 downloadable graphic images for you to use online.  We make it easy for you to create your unique branding as our images come in 9 core different colourways. You'll know that whatever you choose will coordinate. All you need to do is choose the colour that matches your branding. We also add brand new original images every month!
Be Consistent
It can be hard to be consistent. The easiest way is to create a guideline for yourself (and others if you have guest bloggers) about how you want blog posts laid out. You don't want to confuse your readers by making your website look messy or without any order. Try to use images logically on each blog post.
Using images on your blog posts is important. In fact, most experts say you should never post any blog without an image included.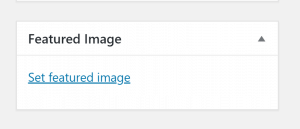 WordPress has an area that allows for a "featured image" for each post. It shares that image with the blog when you post it on your website and some social media accounts. Posts with images are more likely to be read, so it's important to include them.
Find out the 10 Secrets to Using Images
If content is King then it's clear that you need to use images to engage with your audience. To achieve this it's important to make your visual content Queen!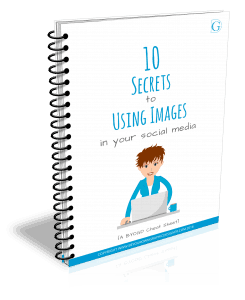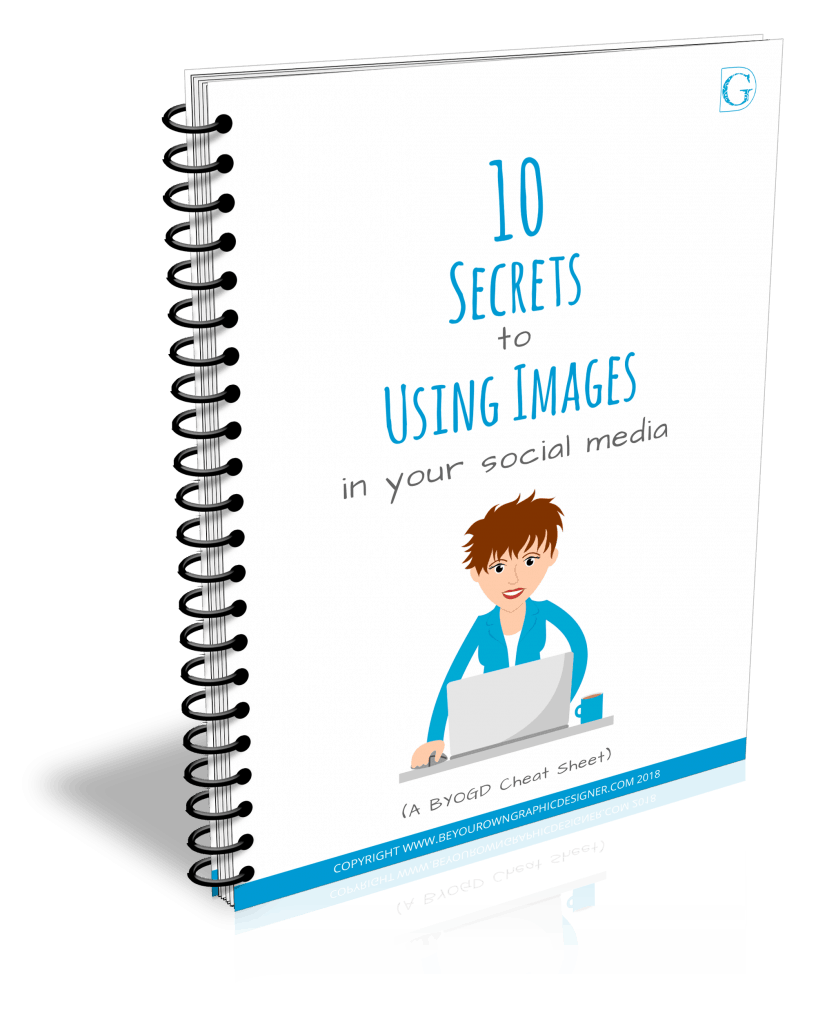 Of course, very few of us can afford to employ a design and marketing agency to do this for us, so it's important for business owners to know what works, and what doesn't.
If you're interested in discovering how to create the perfect content for your audience, sign up and download our '10 Secrets' eBook. In it, you'll find out how to get the best from your online posting.
Takeaway Tip:
Use images in your blog posts. Your blogs are then more likely to be read, so it's important to include them.
Use images in your blog posts. Your blogs are then more likely to be read, so it's important to include them.
Click To Tweet
If you like the images in any of our blogs, similar images are available for you to buy and download from our Collection, together with instructions on how to make your own images in our How-To section.
And remember, I'd love to hear from you, so please leave a comment below or come and join us at Social Media Made Stylishly Simple, our FREE Facebook Group, and leave a comment there.