"Christmas comes but once a year,
And when it comes it brings good cheer."
So the children's nursery rhyme goes but December can also be a stressful time of year. Particularly when you have your December social media posts to do as well!
The pressure to make it 'perfect': get all the presents bought and wrapped; the traditional food prepared; decorations up and ready; bedrooms sorted and extra food made for visitors and guests; excited children (and some adults) to keep calm. And, of course, run your business!
Here are some ideas to help take the pressure off your December social media marketing.

December Interesting Facts
You really need to vary what you post on social media and, as I've said so many times before, it shouldn't be all about you. So, why not test your target audience's reaction to some interesting facts in your December social media? If you ask some of these as a question you might even improve your engagement.
I love the interesting facts I uncover when researching our Social Media Planners. Here are a few pieces of December trivia for you:
The Anglo-Saxons called December Aerra Geola (Before Yule).
An almanac prediction states that if snow falls on Christmas Day, Easter will be warm, green and sunny.
The name December comes from the Latin decem for "ten", as it was the 10th month in the Roman Calendar.
The term Yuletide comes from a Norse tradition of cutting and burning a tree to bring in the Winter Solstice. This was to last through 12 days – later known as the 12 days of Christmas.
December 28th is considered by some to be the unluckiest day of the year.
Spiders and spider webs are considered good luck at Christmas
"Jingle bells" was composed in 1857, and not for Christmas –it was meant to be a Thanksgiving song!
In 1647 Oliver Cromwell, the English Puritan leader, banned the festivities of Christmas as being immoral on such a holy day. Anyone who was seen celebrating was arrested! The ban was lifted in 1660.
12 December Monthly Events
In every Planner, we add lots of different Monthly Holidays to help you find a theme that will suit your business.
AIDS Awareness Month
Decembeard
Identity Theft Prevention & Awareness Month
Learn a Foreign Language Month
National Drunk and Drugged Driving (3D) Prevention Month
National Tie Month
Read a New Book Month
Root Vegetables and Exotic Fruits Month
Safe Toys and Gifts Month
Stress-Free Family Holiday Month
Universal Human Rights Month
Write a Business Plan Month
Many of these events are linked to charities so you can just choose one to support for the month.

12 December Weekly Special Themes
Not sure you want to commit to supporting a particular theme for a month? There are loads of amazing themed weeks in December. Here are just 12 of them that particularly appealed to me but you can find loads more in our December Social Media Planner.
Anger Awareness Week, December 1-7
Hanukkah (Chanukah) December 2-10
National Handwashing Awareness Week, December 2-8
Recipe Greetings For The Holidays Week, December 2-8
Christmas Bird Count Week, December 14-January 5
Halcyon Days, December 14-28
Gluten-free Baking Week, December 16-22
Cookie Exchange Week, December 17-21
Olympia Horse Show, December 17-23 - definitely one of my favourites!
Saturnalia, December 17-23
Festival of Winter Walks, December 23-January 7
Kwanzaa, December 26-January 1.

December Special Days
Again, there are fewer of these to choose from for your December social media as Christmas is so dominant. Try these as they'll provide you with a rich source of content for your December social media posts. Of course, Christmas Day is the highlight of the month in the Christian world. However, while in the UK and USA gifts are given on the 25th, most of Europe give gifts on Christmas Eve.
The Jewish festival of Hanukkah starts on 2 December. The word for Hanukkah is not easily translated into English from the original Hebrew. This accounts for why there are so many different ways to spell it. However, Hanukkah and Chanukah are the two versions most widely used and accepted. Hanukkah lasts for eight days.
A few of more of my favourites include:
Small Business Saturday (UK), 1 December
Make a Gift, 3 December
St Nicholas Day and Pawnbrokers' Day, 6 December - after all, St Nicholas is the patron saint of pawnbrokers!
Worldwide Candle Lighting Day, 10 December
Christmas Jumper Day/National Ugly Christmas Sweater Day, 14 December
Winter Solstice, 21 December - daylight starts to get longer in the Northern Hemisphere
Super Saturday or Panic Saturday, 22 December - last-minute Christmas shopping rush!
National Champagne Day, 31 December - appropriate for New Year's Eve.
We've triple checked these to make certain they are accurate for 2018 but it's amazing how much different sites vary when you try to verify these.
I hope these December social media ideas will help you create a varied and interesting plan for the month.
Remember, there are lots more of these days in our December Social Media Planner as well as two pages of quotes you can use on their own or with your own image.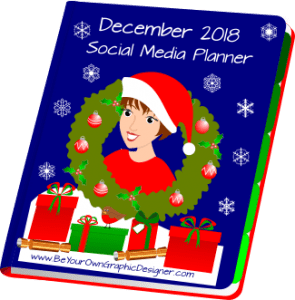 Quotes/Memes
Short of time? Then use our done-for-you social media quotes/memes. You can either buy them individually for 75p each or the whole set of 20 for just £9.50.  All you need to do is add your logo and website address to personalise them! Find out more and take a closer look at our December social media quotes here.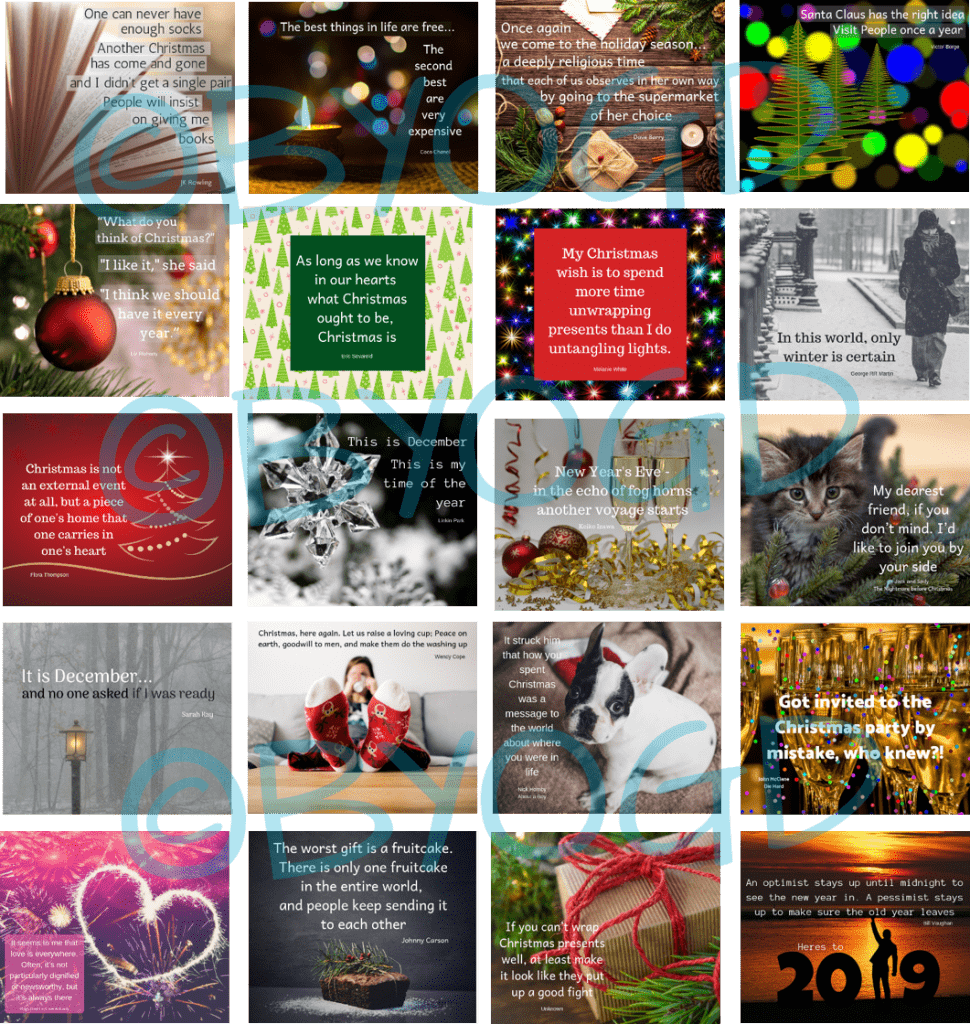 Takeaway Tip:
Use special holidays and events in your social media to help you plan your month's posts!
Use special holidays and events in your social media to help you plan your month's posts!
Click To Tweet
If you like the images in our blogs, similar images are available for you to buy and download from our Collection, together with instructions on how to make your own images in our How-To section.
And remember, I'd love to hear from you, so please leave a comment below or in Social Media Made Stylishly Simple our free Facebook Group.