Canva 2.0 has launched!
It's here! Canva 2.0 has launched!
The new version has loads of new features as well as enhancement and improvements on the original Canva platform.
First of all, another fanfare!
Canva Certifed Creatives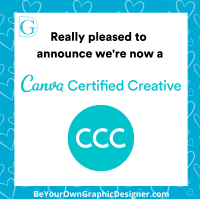 I'm also very excited to announce that we've been invited to be a Canva Certifed Creative. This is a new invite-only ambassador program of an exclusive group of around 80 people worldwide.
They've put together a community of Canva educators to join their elite team, and are giving us the tools and support we need to keep on sharing the power of effective design with you.
We get to beta test the new features and products they're launching and are first to hear the exciting news to come.
Back to Canva 2.0 now!
At the moment, any designs you've already completed in Canva 1.0 can't be edited in Canva 2.0. You can still access them and only need to click on them and it'll take you straight into 1.0 to edit them. However, I'm confident that Canva will soon have a solution for this.
On the good news side, all your Uploads are still available for you to use in the new version.
Let's take a look at what's new or improved.
More space to design
This is a really simple but neat improvement! Find the arrow on the side panel (the one where the templates and images are shown), then you click on it. "Et voilà!" you can now design in fullscreen.
Keyboard shortcuts
On your marks, get set, design! Become a Canva power user. Use Canva's new keyboard shortcuts, quick and smart. Their top five selection is:
'R' to add a rectangle on your page,
'L' to add a line,
'T' to add text,
Mac: '⌘/' for opening/closing the object panel, and
Mac: '⌘D'  for duplicate.
PC: 'Ctrl+/' for opening/closing the object panel, and
PC: 'Ctrl+D'  for duplicate.

You can find the complete list by searching "shortcuts" in Canva Assistant. If you're not sure where the Canva Assistant is, it's the purple circle with a white question mark at the bottom right of your screen.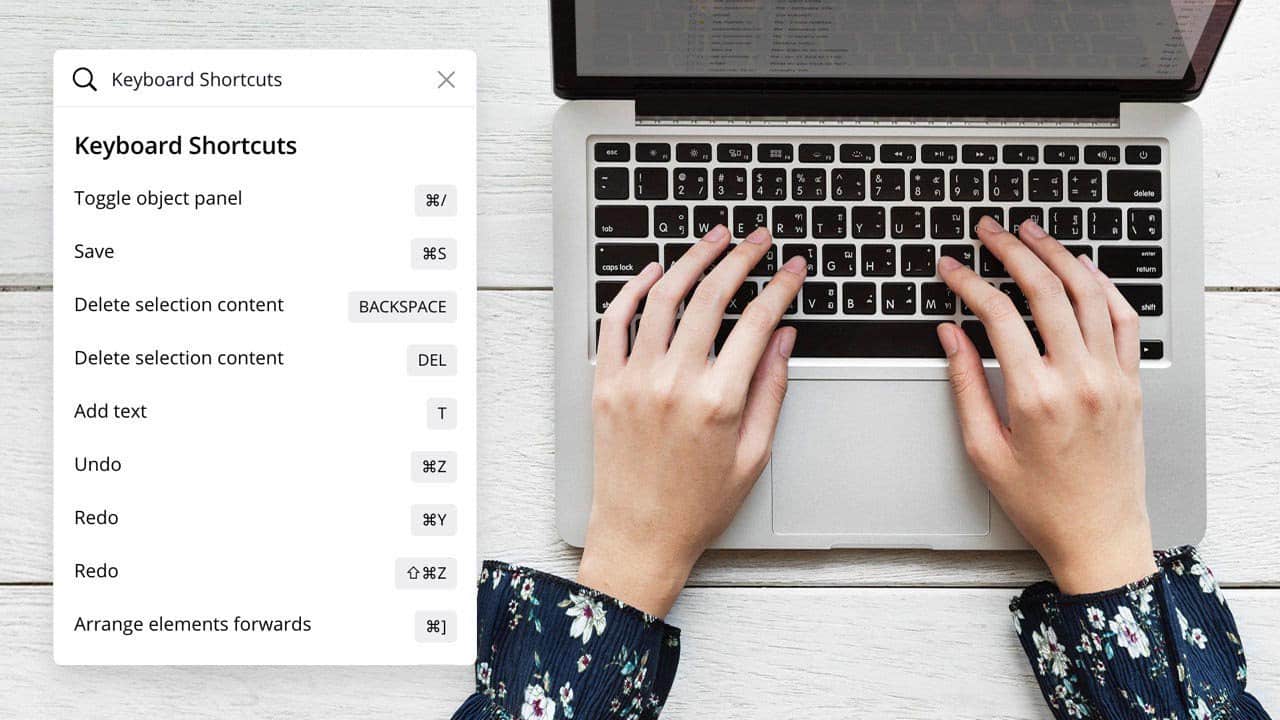 Fast new homepage search bar
This really is lightning fast! You can search over 800 design categories and create new designs in an instant. Just type in what you're looking for and hey presto!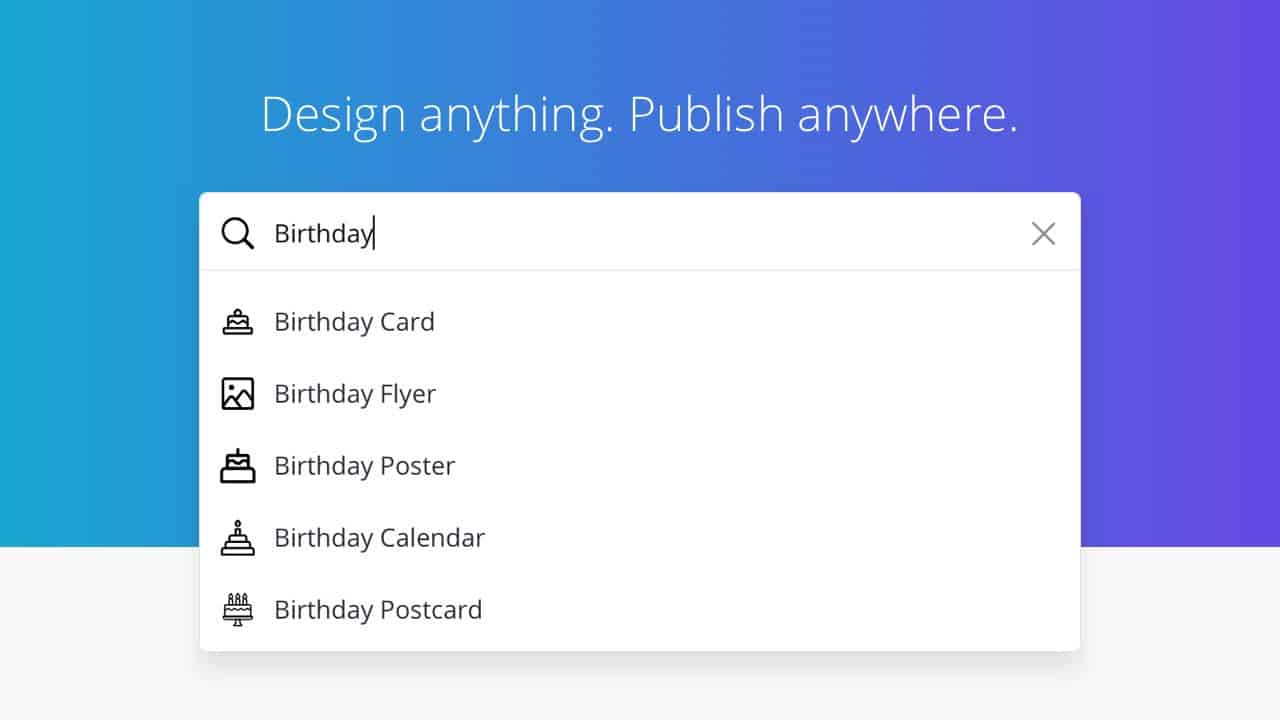 New and improved Animator
I love this feature as it's so easy to use and, as a non-designer, I would never attempt to make a GIF! (Sammy does ours but now I can help out!). Canva's new and improved Animator lets you instantly turn your designs into animated videos.
They've 6 on-trend animation styles for you to choose from. You can then either download your video as a GIF or movie file to share on your favourite social networks, embed on a website or share with friends and family.

Website templates
I haven't tried this feature yet but you can now create a website in just a few clicks. I have scrolled through some of the templates, though, and I particularly liked the Pink Makeup Artist/Stylist one!
There are 100 beautiful templates and 4 slick navigation styles and they really take the stress out of designing from scratch.

Autoplay presentations
Now presenting… presentations on loop! Turn your slideshow into a TV billboard with Canva's autoplay feature for presentations. Perfect for trade shows and lobbies alike, looped presentations are a great way to keep your audience effortlessly informed. Give it a try: simply select "Present" from the Publish dropdown, then select "Autoplay".
Share your presentation or document as a fullscreen website
More on presentations. You put hours of work into a slideshow, presented it and that was it!  If only it could live on and have a second life. Well, now it can: as a website. Thanks to Canva, you can transform your presentations into stunning, clickable websites.

100 New Languages
Canva 2.0 has over 100 languages: from widely spoken Spanish dialects to indigenous languages only spoken in certain parts of the world, like Corsican, Aymara and K'iche'. They are taking their mission to 'empower the world to design' really seriously!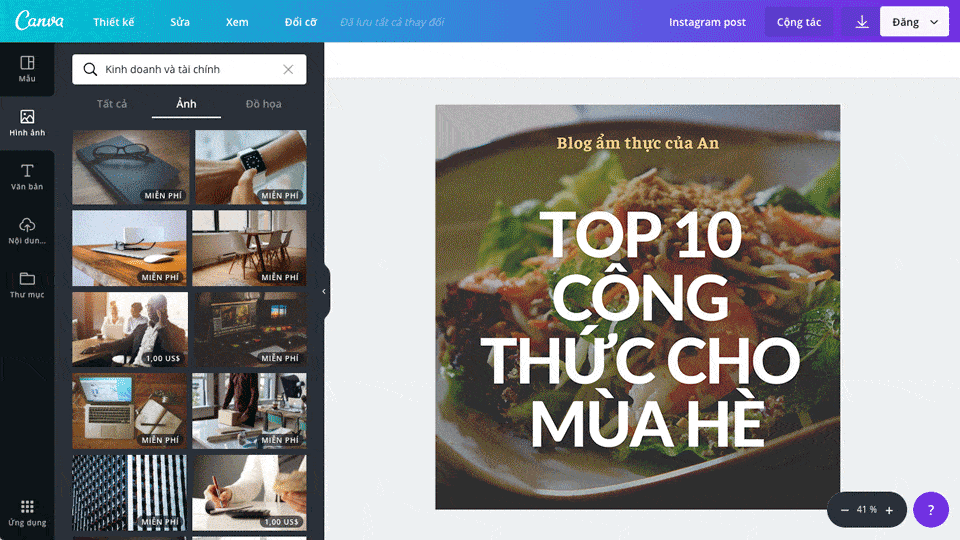 Coming soon on Canva 2.0

Publish directly to LinkedIn, Pinterest, Slack and more
This is great as it saves you downloading your Canva designs and then uploading them to your favourite sites. Sharing directly to Facebook and Twitter was available in the original Canva. Now, you'll be able to share instantly to Pinterest, LinkedIn or Slack. Simply click the "Export" button, then find your favourite site.
Schedule your posts with Canva Schedule
I've been beta-testing Canva Schedule and it's great! You can design when the inspiration takes you, and schedule your design to post later. With Canva Schedule you can stay in control of your social media presence while freeing up time to concentrate on other things.
You can schedule your posts hours, days or weeks in advance… I've even tried months! Canva Schedule will automatically post them according to the plan you've set. You can post to Facebook, Twitter, Pinterest and Linkedin, with more coming soon.
You can create non-Canva posts directly, upload images the same way as if you were scheduling on Hootsuite, Buffer or any other scheduler.
There are more new features coming soon but I'll cover these as they're closer to launch.
Need images for your Designs?
If you like our images they are available for you to buy and download from our Collection.  You can also find many of them on Canva. In the design screen go to 'Elements' and type 'BYOGD' into the Search Bar at the top left of your screen, where it says 'Search millions of images'.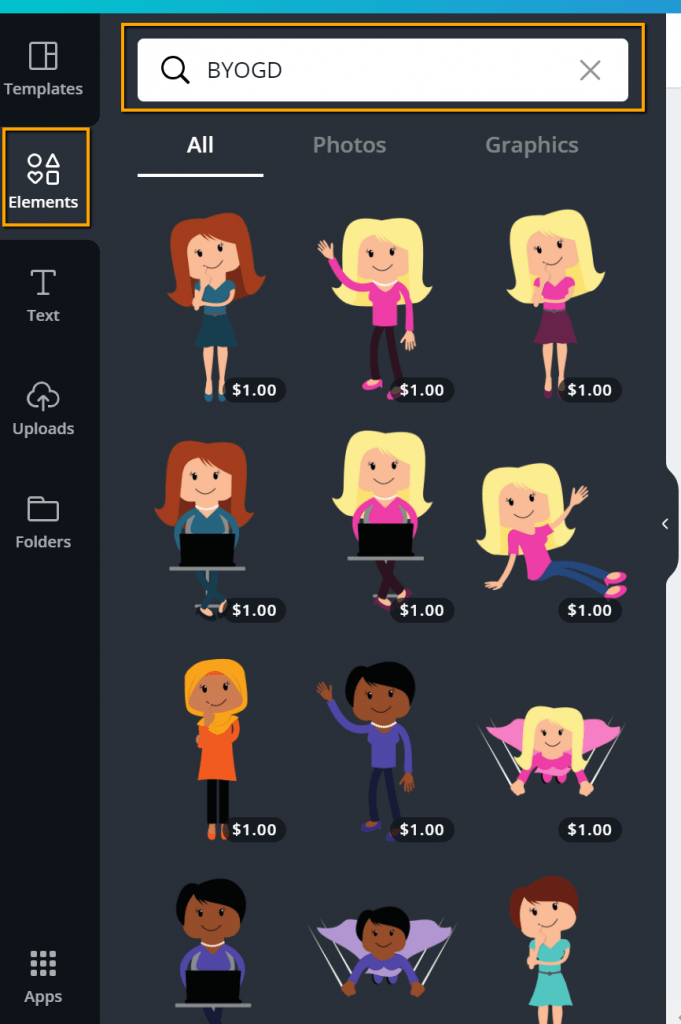 You'll find video instructions on how to make your own images with Canva in our How-To page.
And remember, I'd love to hear from you, so please leave a comment below or in Social Media Made Stylishly Simple our free Facebook Group.