Why You Should STOP Competing
Newsflash: Having the best product will NOT make you the market leader in your niche.
Marketing is a mind-game so it stands to reason that being the first in the hearts and minds of your target audience is the way to win.
But what if this top spot is already occupied by your main rival?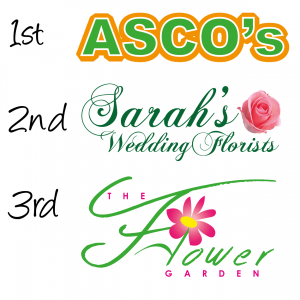 This is about YOUR market; the actual companies you compete with daily and this applies to both on and offline companies.
For example, a high street florist's competition is not the national market leader. It's the other local florists and the supermarkets who happen to sell bunches of flowers next to the newspapers.
The key to winning this battle is to stop competing and start branding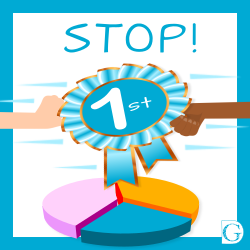 Seriously!
Too many businesses try to win customers by frantically trying to copy the leader in their niche – this is an error.
That's why rebranding yourself as the go-to no-brainer solution to one specific problem that is NOT being actively addressed by your competitors is the way to win.
For instance, using the florist analogy I used earlier, if:
You are competing with the supermarkets' bunches of flowers on the price… you can't win.
If you are competing with the florist around the corner who has become no.1 in the local mindset for producing beautiful traditional floral wedding displays. Stop competing by doing the same… you won't win.
If your rival's branding goes for the 'very girly floral' look., do something different. Then go for something different…the 'classic elegant chic', 'young and edgy' or 'country simplicity' look.
And this isn't a technique that used to work, but doesn't work 'these days'.
LUSH successfully positioned itself in the very overcrowded and price driven beauty market by being environmentally-friendly and completely on-message. Their branding is quirky, fresh and effectively gives their customers 'environmental permission' to spend top-end prices to have a guilt-free bathing experience.
Hello Fresh competes with the top-end supermarkets delivery services by branding themselves to appeal directly to professional 30-year-olds with busy lives who like to relax by cooking interesting meals using high-quality fresh ingredients.
They both are examples of companies who stopped competing on their rivals' terms and started competing on their own.
To grow your business, stop competing on your competitors' terms and start competing on YOUR OWN!
To grow your business, stop competing on your competitors' terms and start competing on YOUR OWN!
Click To Tweet
What is your UNIQUE SELLING POINT?
Which means, what do you do better than or different from your rivals?
What is your USP, your Unique Selling Point?
Click To Tweet
For instance, the florist around the corner may specialise in traditional wedding displays, while you could specialise in flowers for corporate events and functions?
The supermarket flowers may be cheap, but can they compete with your personal packaging, your handmade card selection or your evening delivery service?
Worried the market leaders might realise what you have done and start to compete with you?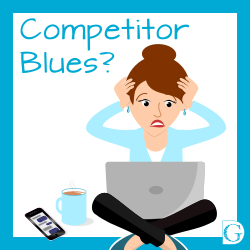 Why would they?
They are the leaders in the niche.
They will not want to stop doing what they did to get there by risking a competitive rebrand of their own.
In fact, they may not even notice what you are doing until you are well established and the go-to brand for your micro-niche market!
Nice!
Fast Food outlets? How about Slow Cooked to perfection…
Coffee giants? How about specialising in the 'Traditional afternoon tea and home-made cakes on a porcelain tea set' market?
Loud music pubs? Why not specialise in providing classical background music or 'songs from the shows' to attract a quieter more discerning customer?
Graphic Design and Marketing Agencies?…
Well, this is what we did.  We specialise in showing business owners like you how easy, quick and affordable re-branding your business online can be.
We show you how to take your existing logo and brand colours and produce beautiful, colour coordinated social media posts and headers. Ones that really connect with YOUR chosen market niche and attract the clients you WANT to have in your tribe.
We provide support and advice through our free Facebook Group. We encourage our members to ask questions and share their ideas for new images and backgrounds. If we think they are going to benefit the whole group, we add them to the collection to download at no extra charge!
Where do you start if you are a 100% complete design novice and can't draw an orange without a template?
Start here!
If you haven't already, visit the Be Your Own Graphic Designer website. It's full of interesting ideas and design tips about building your brand on social media.
You'll find a collection of over 1,200 downloadable, copyright free images in YOUR brand colours. And training on the best free software so you can create your unique posts.
All our images are 100% copyright and royalty-free!  We will get you branding your business. You'll be posting your creations onto your social media accounts in around half an hour.
We'd also like to invite you to take a minute to click on this link to our Social Media Made Stylishly Simple Facebook Group and download our complimentary set of 16 SOCIAL MEDIA POSTS.
You'll get FREE MEMBERSHIP to the FACEBOOK GROUP where you can ask questions, get hints and tips and chat to others in the group about your business branding wants, needs and wins!
Your 16 UNBRANDED SOCIAL MEDIA POSTS in YOUR OWN BRAND COLOURS are 100% free to download.
Takeaway Tip
So, whatever your niche, your takeaway tip for today is:
STOP doing what your competitors ARE doing, and START doing what they AREN'T doing.
Takeaway Tip: STOP doing what your competitors ARE doing, and START doing what they AREN'T doing.
Click To Tweet
Even though it is difficult and flies in the face of everything you might have learned about branding in the past.
Become no.1 on your own terms!