Why you should fall in LOVE with your brand
If you are running a business, you have a brand.
But is it helping your prospective customers get to know that you are the right choice for them?
Discovering the simple truths about how to present your brand to your audience will make a dramatic difference to your success.
Your branding is the promise you make to your audience that what you provide is exactly what they are expecting.
Your branding is the promise you make to your audience that you provide what they are expecting.
Click To Tweet
Does the word 'expecting' seem odd to you?
Let me explain.
It's very easy in business to think that if you can appeal to everyone you will sell more and therefore be more successful.
However, people are NOT all the same.
Some people like to search out 'best value' brands, some search for 'high-end quality'.
Others prefer the no-nonsense corporate approach while others prefer a more chatty, informal style…
Some like retro elegance, others go for the 'no-frills' 'does what it says on the tin' approach…
Some want everything done for them, others want a coach to help them learn how to do it themselves…
And so the list goes on.
Would ALL of these people choose to work with you?
 And more to the point, in an ideal world, would YOU choose to work with all of them either?
No, of course, you wouldn't.
It's a bit like falling in love or making lifelong friends…
Subliminal messages you send out through your personal style about the type of person you are, attract people who value the same choices as you do.
You have selected them to be the special people in your life because you can rely on them to relate to your little quirks, to be there when you need them, support you in crisis and celebrate the good times with you.
You can EXPECT them to be THEM and they can EXPECT you to be YOU!
Now, relate this directly to your business, through your online branding. There are MILLIONS, literally millions of potential customers on the internet who:
LOVE the things you love
Appreciate your quirky sense of humour
LOVE your colour choices
Adore your typefaces
Can totally relate to what you are doing and can't wait to work with you.
Wouldn't you want to work with these people?
What is the secret?
Well, like a home, great branding has four cornerstones: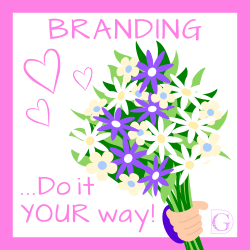 Be yourself – people can spot a fake from miles off.
Be consistent – post regularly, use your logo subtly and stick to your brand colours and typefaces always.
Accept support from those you'd feel comfortable working with and who have trodden the path before you.
Be enthusiastic and LOVE what you are doing.
And you will find you start to attract people who are just queuing up to hear what you say and become paying customers.
And the bonus is, that they will then tell their friends about "this really switched on Company that seems to be SO on my wavelength – I KNOW you are going to LOVE them" – and start talking about how super you are to work with.
Be yourself, be consistent, accept support, be enthusiastic and love your brand!
Click To Tweet
THAT is branding in action.
Where do you start?
Where do you start if you are a 100% complete design novice and couldn't draw a love heart without a template? A place we recommend you go to begin with is Canva.com.
Why not join a resource, full of interesting ideas, design tips about building your brand on social media?
A resource that has a collection of over 2,250 downloadable, copyright-free images in YOUR brand colours. And training on the best free software so you can create your unique posts.
And how cool would it be if when you needed an image that was not in the collection, you could just ask for it to be created*?
We'd like to invite you to take a minute to click on this link to our Facebook Group, Social Media Made Stylishly Simple and download our complimentary set of 16 SOCIAL MEDIA POSTS.
You'll get FREE MEMBERSHIP to the FACEBOOK GROUP where you can ask questions, get hints and tips and chat to others in the group about your business branding wants needs and wins!
The social media posts are 100% copyright and royalty-free. So you can use them as often as you like on your personal and business social media. Choose your own brand colour from one of our nine core colour options.
Takeaway Tip
But whatever your niche, your takeaway tip from me is:
Fall in love with your brand and watch your clients do the same!
Fall in love with your brand and watch your clients do the same!
Click To Tweet
PS. Don't forget, if you would like free help and advice on your branding, come and join our Facebook Group.
*If you want an image created for the collection, just post the request in the Social Media Made Stylishly Simple Facebook Group.  If we think it is an image that others in the group will also like to download, we'll draw it and post it in the collection. It will be at the usual image cost with no extra design fees.