To get you in the September mood, I thought I'd start with a couple of quotes from the 30 quotes included in September's Social Media Planner. Every month we include a quote for each day so you can either post as they are or add a background image to them:
"September is a changeable sort of month. One foot in summer and the other in autumn" 
Cameron Dokey
While I think my favourite quote is this one from Instagram:
"September… back to school… (victory dance)" 
@reallifemummy
Below are quite a few more ideas that will help you with your September social media marketing.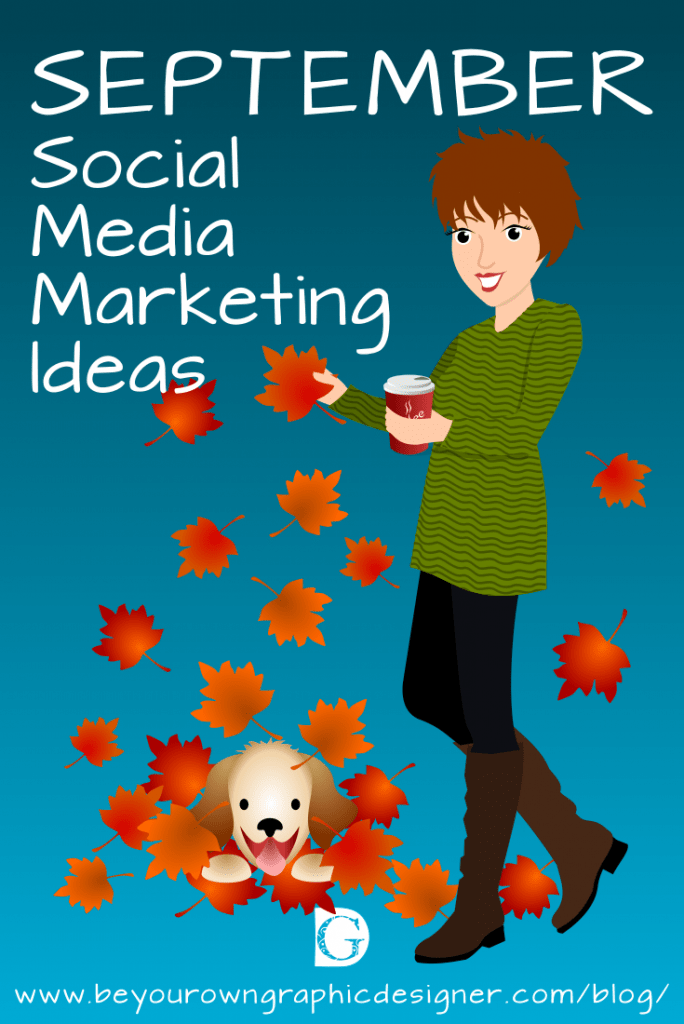 September Interesting Facts
I love the random interesting facts and information I uncover while pulling together our Social Media Planners. Beware it can become addictive! Here are just a few from the September Planner for you:
The Romans believed that the month of September was looked after by the god of the fire and forge – Vulcan. Therefore, they expected fires, earthquakes and volcanic eruptions in this month.
In many parts of the world, September is the first month of Autumn and it is associated with the beginning of school.
September is the only month with the same number of letters in its name in English as the number of the month.
The Anglo-Saxons called September 'Gerst monath', meaning 'barley month' which seems appropriate as it's usually harvest time.
In 1752 September had only 19 days in the UK as we moved from the Julian to the Gregorian calendar.
The birthstone for September is the sapphire, which is said to reduce inflammation, treat fever and act as a lucky charm for the person wearing it.
There are three traditional flowers of the month of September: the aster, symbolising love; the forget-me-not, representing memories and love; and the morning glory, symbolising unrequited love.
Of course, the fact I found most fascinating is that in 1608 men were banned from knitting on the island of Jersey in the Channel Islands, UK. This ban was during the fishing season months of August and September! Knitting had become so popular and profitable that there were not enough labourers at harvest time and the crops were left in the fields to rot.
I then also discovered that it is illegal for men to knit during daylight hours in Guernsey, another of the Channel Islands!  This law was created because local fishermen worked out they could make more money knitting Guernsey jumpers than they could make fishing. As a result. a law was passed to get the men back out on the fishing boats.
It seems like neither law has never been repealed. Clearly, the Channel Islands are a law unto themselves!

12 September Monthly Events
In every Planner, we add lots of different Monthly Holidays to help you find a theme that will suit your business. There are two pages of these in our September Planner. Here are the 12 that appealed to me:
Better Breakfast Month
Blood Cancer Awareness Month
Blue September/Prostate Cancer Awareness Month
Childhood Cancer Awareness Month
Classical Music Month
National Honey Month
National Suicide Prevention Month
Oddfellows Friendship Month
Organic September
National Sewing Month
Polycystic Ovarian Syndrome Awareness Month
Urology Awareness Month
Self Improvement Month
Vascular Disease Awareness Month
Many of these events are linked to charities so you can decide on one to support for the month.

12 September Weekly Special Themes
Not sure you want to commit to supporting a particular theme for a month? There are loads of amazing themed weeks in September. Again they run to two pages in our Planner so if these don't rock your boat, there are lots more to choose from:
International Enthusiasm Week, September 1-7
National Nutrition Week, September 1-7
Migraine Awareness Week, September 3-9
Organ Donation Week, September 4-10
National Drive Electric Week (Formerly National Plug In Week), September 8-16
Know Your Numbers Week (Blood Pressure, UK), September 11-17
Remember A Charity in your Will Week, September 11-17
National Eczema Week – September 17-25
Pollution Prevention Week, September 17-23
Red Squirrel Awareness Week, September 23-October 1
International Week of the Deaf, September 24-30
National Fall Foliage Week, September 26-October 2
Two events that run for a fortnight I thought I'd include are:
Oktoberfest, September 22, 2018 - October 7
British Food Fortnight, September 23-October 8

September Special Days
There are so many of these in September. You're spoilt for choice with potential content for your September social media posts.
A few of my personal highlights include:
Burghley Horse Trials, starts 29 August and runs to 2 September
National Read a Book Day #ReadABookDay, 6 September
I never need an excuse to read!
National Teddy Bear Day, 9 September
and I've always had a soft spot for a Teddy Bear.??
9/11 Remembrance/Anniversary Day, 11 September
Great British Beach Clean, 15-17 September
World Alzheimer's Day, 21 September
Hobbit Day, 22 September
European Day of Languages, 26 September
Support Purple for Platelets Day, 28 September
World Heart Day and the World's Biggest Coffee Morning, 29 September
International Day of the Deaf, 30 September.
We've triple checked these to make certain they are accurate for 2018 but it's amazing how much different sites vary when you try to verify these.
Quotes/Memes
There are also quote/meme images for September that you can purchase from us if you're short of time. All you need to do is add your logo and website address to personalise them! Find out more and preview them here.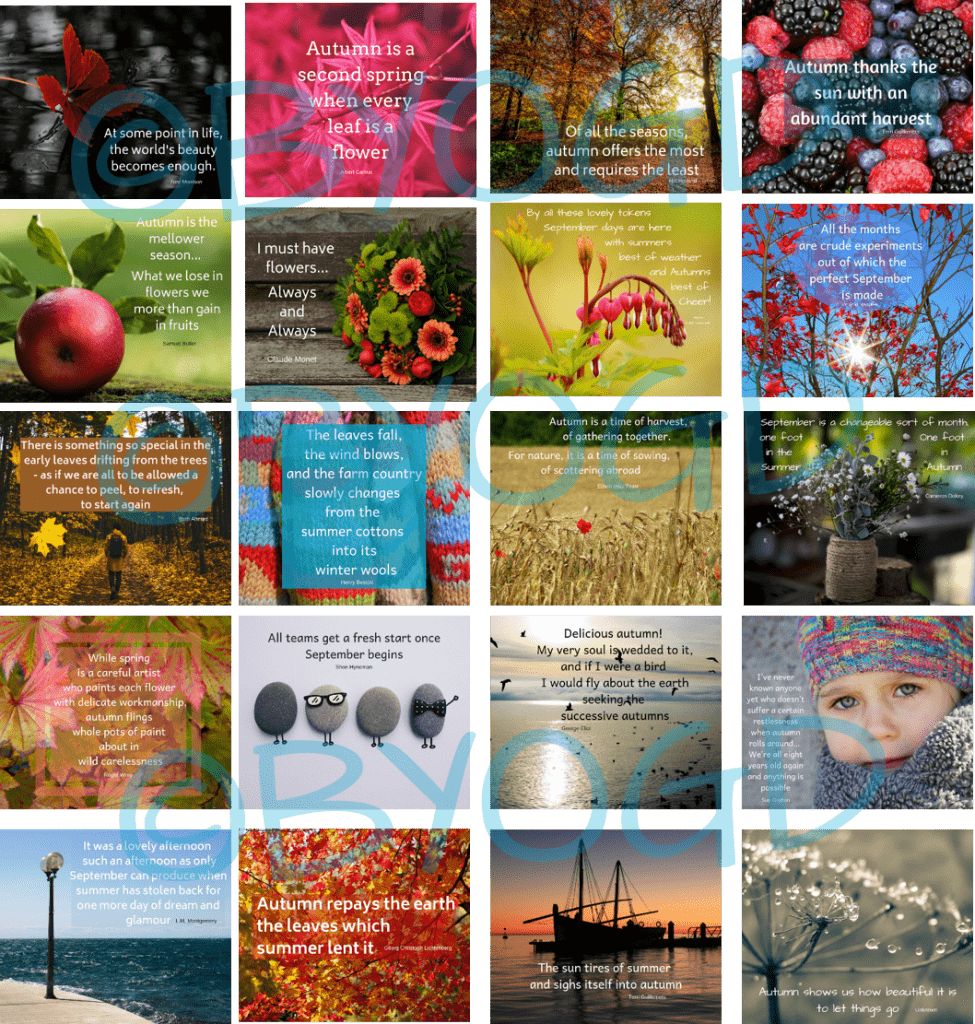 I hope these September social media ideas will help you create a varied and interesting plan for the month.
Remember, there are loads more ideas to choose from in our monthly Planner!


Takeaway Tip:
Use special holidays and events in your social media to help you plan your month's posts!
Use special holidays and events in your social media to help you plan your month's posts!
Click To Tweet
If you like the images in our blogs, similar images are available for you to buy and download from our Collection.  We also have instructions on how to make your own images in our How-To section.
And remember, I'd love to hear from you, so please leave a comment below or in Social Media Made Stylishly Simple our free Facebook Group.