"Hold on, man. We don't go anywhere with 'scary,' 'spooky,' 'haunted,' or 'forbidden' in the title." - Scooby Doo
There is so much to celebrate in October that choosing a select number of events to help you with your October social media marketing has been a challenge!
Of course, it's Halloween at the end of the month, 31 October. Also, don't forget the clocks go back on the last weekend of the month, 28 October - the official end of British Summer Time.  😥

October Interesting Facts
One of the really fun things about putting together our Social Media Planners is the plethora of interesting facts and information I uncover! So just a few pieces of October trivia for you:
In the 18th century "October" was a common name for a strong ale brewed in this month
Anglo-Saxons called this month "Winterfylleth" ("fullness of winter"). JRR Tolkien's hobbits turned this into "Winterfilth"
One of the original Roman calendar months, October literally translates to "the eighth month" because the year began with March.
Oktoberfest
Back to beer and Oktoberfest, which is a 16-day festival going from late September to the first weekend in October.
Oktoberfest began when Prince Ludwig of Bavaria wanted to celebrate his marriage to Princess Therese of Saxony-Hildburghausen, with his people. This was on October 12, 1810. Ludwig had horse races and invited all of the people of Munich.
Then, in 1811, an agricultural show was added to the horse races to boost the Bavarian agriculture. The horse races are no longer held today, however, the Agricultural Show is still held every three years. In 1818 the first carousel and two swings were set up, along with small beer stands that would grow rapidly in number as the years went on. In 1896 the beer stands were replaced with the first beer tents and even beer halls.

12 October Monthly Events
In every Planner, we add lots of different Monthly Holidays to help you find a theme that will suit your business. There are two pages of these in our October Planner and here are just a few:
AIDS Awareness Month
Breast Cancer Awareness Month
Celiac Disease Awareness Month
Dyslexia Awareness Month
Halloween Safety Month
Head Start Awareness Month
Lupus Awareness Month
National Book Month
Positive Attitude Month
Raptor Month
Self-Promotion Month
World Menopause Month
Raptor Month
Raptor Month tends to be a particularly significant one for me! Not because I'm a birdwatcher but my husband is and I lose him for most of October to his hobby. Where we live, in the Western Algarve in Portugal, is a raptor migration route. The ninth Sagres Birdwatching Festival runs from October 4-7 and several of his friends visit so they're off looking for birds all day.
Last year, we had 4-500 eagles and vultures circling on the thermals over our house for most of the day! Meanwhile, they'd been out for hours and saw a lot less.
This does let me indulge in one of my hobbies, which is reading, so I'll certainly be lining up some interesting books for National Book Month.
As usual, many of these events are linked to charities so you can just choose one to support for the month.

12 October Weekly Special Themes
Not sure you want to commit to supporting a particular theme for a month? There are loads of amazing themed weeks in October.
I find it really hard to whittle down the large choice of Weekly themes in our October Social Media Planner to just 12 for this blog. There are over 45 to choose from in this month's Planner. However, as a book and chocolate lover, the choice definitely became easier!
Customer Service Week, October 1-5
Great Books Week, October 1-7
Backcare Awareness Week, October 2-8
World Space Week, October 4-10
International Postcard Week, October 7-13
National Walk Your Dog Week, October 7-13
National Arthritis Week, October 9-16
Chocolate Week, October 9-15
National Curry Week, October 9-15
National Chestnut Week, October 14-20
International Brain Tumour Awareness Week, 21-28
National Chemistry Week, October 21-27
Horse Chestnut/Conkers
I love the idea of Chestnut week as it's a reminder that this time of year is when I used to play Conkers as a child. This is a traditional British and Irish game, so I'm not sure where else it's played. However,  for those who have no idea what it is, this is how you play:
A hole is drilled in a large, hard conker using a nail, gimlet, small screwdriver, or electric drill. A piece of string, about 20 cm (8 inches) long, is threaded through it.
A large knot at one or both ends of the string secures the conker.
The game is played between two people, each with a conker.
They take turns hitting each other's conker using their own. One player lets the conker dangle on the full length of the string while the other player swings their conker and hits.
The conker eventually breaking the other's conker wins a point. This may be either the attacking conker or the defending one.
A new conker is a none-er meaning that it has conquered none yet.
If a none-er breaks another none-er then it becomes a one-er, if it was a one-er then it becomes a two-er , and so on.
A word of caution, you need to take care though as you can get whacked with a conker quite easily!

October Special Days
As a coffee addict, I couldn't possibly miss:
International Coffee Day, 1 October
Spoil yourself and combine it with:
National Homemade Cookies Day, 1 October!
Some other favourites of mine:
National Vodka Day, 4 October
World Smile Day, 5 October
National Mad Hatter Day, 6 October
National Bring Your Teddy Bear to Work/School Day, 10 October
International Sceptics Day, 13 October - really?!
national lower case day, 14 October
World Vasectomy Day and National No Beard Day, 18 October - both getting a snip!  😀
World Polio Day, 24 October
National Pumpkin Day, 26 October.
Of course, the final day of the month is Halloween! Certainly, the perfect opportunity to promote your business with a fun theme. If you need some inspiration take a look at my recent blog post which shows you step-by-step how to Create spooky Halloween images with Canva. We also have a special offer Halloween bundle of 50 images at a bargain price of only £9.75!
You can also check out Canva for our Halloween images directly. Just type 'BYOGD Halloween' into the Elements Search Bar on Canva 2.0.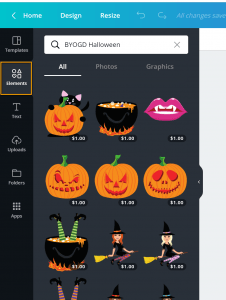 We've triple checked these to make certain they are accurate for 2018, however, it's amazing how much different sites vary when you try to verify these.
Even more of these days are listed in our October Planner. 
Quotes/Memes
Short of time? Then use our done-for-you social media quotes/memes. You can either buy them individually or the whole set of 20.  All you need to do is add your logo and website address to personalise them! Find out more and preview them here.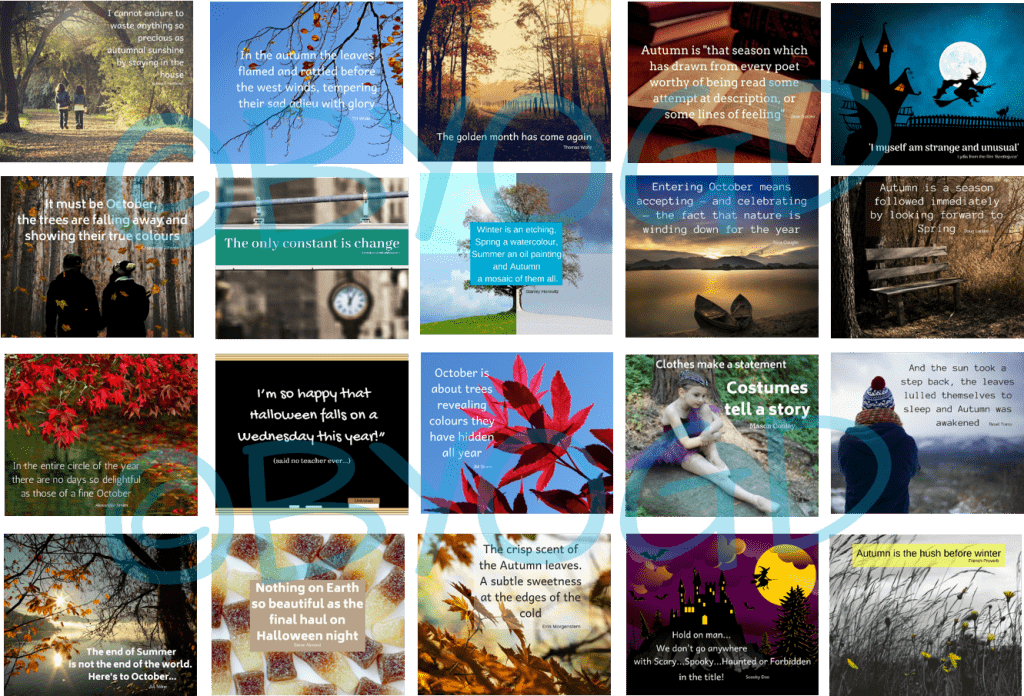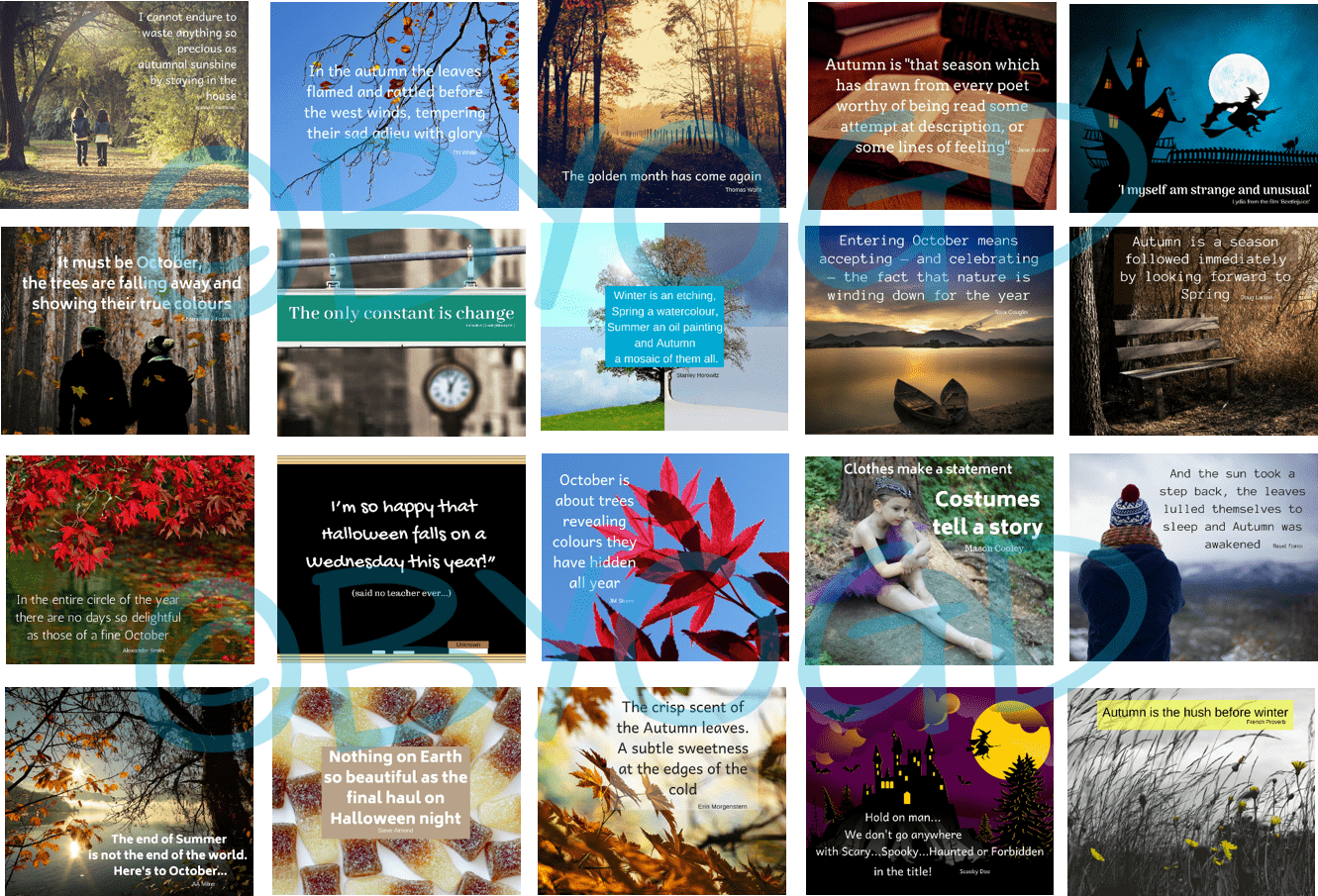 In October's Planner, I've also included some additional Halloween quotes for you to make your own memes from. Here are a few:
"On Halloween you get to become anything that you want to be" - Ava Dellaira
"Halloween is the crack between the last golden rays of summer and the dark of winter" - Jenny Colgan
"Eat, drink and be scary" - Unknown.
Takeaway Tip:
Use special holidays and events in your social media to help you plan your month's posts!
Use special holidays and events in your social media to help you plan your month's posts!
Click To Tweet
If you like the images in our blogs, similar images are available for you to buy and download from our Collection, together with instructions on how to make your own images in our How-To section.
And remember, I'd love to hear from you, so please leave a comment below or in Social Media Made Stylishly Simple our free Facebook Group.