We'll soon be in the 'merry, merry month of May!' - a perfect time for a stroll in the park according to the lyrics of one song I found. In fact, I found several songs about the 'merry month' all describing it as a time for celebration. Here are just a few ideas that will help you with your May social media marketing.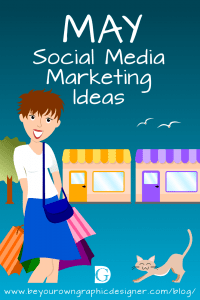 May Interesting Facts
One of the really fun things about putting together our Social Media Planners is the plethora of interesting facts and information I uncover! So just a few pieces of May trivia for you:
Generally thought to have been named after Maia, the Greek goddess of fertility.
The Roman poet Ovid had another idea: he said, it was named for the maiores (the elders) and June for the iuniores (youth).
The Romans called the month Maius.
The name changed over the years. It was first called May in the 1400s near the end of the Middle Ages.
There are several superstitions surrounding May as well, such as you should not buy a broom, wash blankets or get married in May: "Marry in May and you'll rue the day". This leads nicely on to events taking place this month as on May 19th Prince Harry and Meghan Markle are getting married! Royal weddings are always an opportunity for you to put together special promotions for your business. With huge coverage all over the world, even the most cynical get caught up in the excitement.

12 May Monthly Events
In every Planner, we add lots of different Monthly Holidays to help you find a theme that will suit your business. There are two pages of these in May and here are just a few from the May Planner:
Celiac Awareness Month
Cystic Fibrosis Month
Lupus Awareness Month
Make May Purple/Action on Stroke Awareness Month
Melanoma and Skin Cancer Awareness Month
Mental Health Awareness Month
Lyme Disease Awareness Month
National Mediterranean Diet Month
National Photograph Month
Ramadan, May 15-June14
However, I can't leave May's list without mentioning probably my personal favourite bizarre month! It is, of course:
Zombie Awareness Month.
Perhaps an opportunity for a 'The Walking Dead' theme?
Many of these events are linked to charities so you can just choose one to support for the month.

12 May Weekly Special Themes
Not sure you want to commit to supporting a particular theme for a month? There are loads of amazing themed weeks in May. Here are just 12 of them that particularly appealed to me but you can find loads more in our May Social Media Planner.
Children's Book Week 2018, April 30-May 6
National Gardening Week, April 30-May 6
Viral Meningitis Awareness Week, May 1-7
Drinking Water Week, May 6-12
Food Allergy Awareness Week, May 13-19
Deaf Awareness Week, May 14 -20
National Anxiety and Depression/Mental Health Awareness Week, May 14-20
National Stuttering Awareness Week, May 14-20
British Sandwich Week, May 20-26
Dementia Action Week, May 21-27
British Tomato Week, May 22-29
English Wine Week, May 27-June 4
Personally, I'm looking forward to English Wine Week as the selection and quality are improving every year!

May Special Days
Again, there are a plethora of these which will provide you with a rich source of potential content for your May social media posts throughout the month. A major USA celebration day is Mother's Day on 13th May though, of course, this was in March in the UK.
A few of my personal highlights include:
Star Wars Day - May the 4th be with you!
The Women's Tour de Yorkshire Bike Race, May 3-4
The Tour de Yorkshire Bike Race, May 5-6
Europe Day, May 9 - slightly controversial with Brexit looming!
World Cocktail Day, May 13
World AIDS Vaccine Day and International AIDS Candlelight Memorial, May 19
Eat More Fruits & Vegetables Day, May 24 - though I'm trying to do that every day now.
Spring Bank Holiday (UK), Memorial Day (USA) and World Hunger Day, May 28.
There's also a bit of a wine theme going on this month with English Wine Week and then:
International Sauvignon Blanc Day on May 4, World Moscato Day on May 9, National Chardonnay Day on May 24 and National Wine Day on May 25.
As if I needed an excuse!
We've triple checked these to make certain they are accurate for 2018 but it's amazing how much different sites vary when you try to verify these.
There are lots more of these days in our Planner as well as two pages of quotes you can use on their own or with your own image. We do have quote images for May that you can purchase from us if you're short of time. You just need to add your logo! Find out more and preview them here.
I hope these May social media ideas will help you create a varied and interesting plan for the month.
Remember, there are loads more ideas to choose from in our monthly Planner!
Takeaway Tip:
Use special holidays and events in your social media to help you plan your month's posts!
Use special holidays and events in your social media to help you plan your month's posts!
Click To Tweet
If you like the images in our blogs, similar images are available for you to buy and download from our Collection, together with instructions on how to make your own images in our How-To section.
And remember, I'd love to hear from you, so please leave a comment below or in Social Media Made Stylishly Simple our free Facebook Group.