Are you looking forward to Summer? July is just around the corner now and one of the quotes in our July Social Media Planner seems like the perfect description of a July day to me:
"A perfect summer day is when the sun is shining, the breeze is blowing, the birds are singing, and the lawn mower is broken" - James Dent
To make the most of your Summer, try to get ahead and plan and schedule your social media in advance so that you can take advantage of the good weather and long days. Here are just a few ideas that will help you with your July social media marketing.

July Interesting Facts
It's fun researching our Social Media Planners and I find I'm becoming a font of often trivial information! Here goes with some July trivia for you:
The month of July is named after Julius Caesar by a decision of the Roman Senate in 44BC as July was the month of his birth.
Until the 18th century, the word July in English had the stress on the first syllable and rhymed with duly or truly.
Although six months have passed, July 1 is not the mid-point of the year. The exact halfway point comes at 1pm BST on July 3 in a non-leap year.
July is the warmest month in the Northern Hemisphere on average. It is similar to January in the Southern Hemisphere.
It is sometimes called the Hay month because the grass dries out due to a lack of rain (hopefully!) and can be made into hay.
July's birthstone is the ruby and it is often associated with contentment, love, passion, and integrity.

12 July Monthly Events
In every Planner, we add lots of different Monthly Holidays to help you find a theme that will suit your business. Here are just a few from the July Planner:
Adopt a Rescued Rabbit Month
National Anti-Boredom Month
Baked Bean Month
National Culinary Arts Month
Feminism Month
National Hot Dog Month
Ice Cream Month
National Independent Retailer Month
Picnic Month
Sarcoma Awareness Month
Unlucky Month for Weddings
World Watercolour Month
I never realised before doing this Planner that July was considered an unlucky month for weddings! Many of these events are linked to charities so you can just choose one to support for the month.

12 July Weekly Special Themes
Not sure you want to commit to supporting a particular theme for a month? There are loads of amazing themed weeks or, in the case of the Wimbledon Tennis Championships, a fortnight in July. Here are just 12 of them that particularly appealed to me though you can find even more in our July Social Media Planner.
Wimbledon Fortnight, July 3-16
Sarcoma Awareness Week, July 3-9
Nude Recreation Week, July 9-15
Great British Pea Week, July 9-15
National Farriers Week, July 10-16
British Festival of Archaeology Fringe 2018, July 15-30
National Zookeeper Week, July 15-21
Everybody Deserves A Massage Week, July 16-22
Independent Retailers Week, July 16-22
National Moth Week, July 21-29 #NationalMothWeek #NMW
Parks Week, July 23-29
National Marine Week, July 29-August 1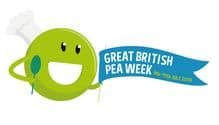 I love the idea of the Great British Pea Week! It even has its own website at https://greatbritishpeaweek.co.uk/ and logo!  Did you know that the UK is the largest producer and consumer of frozen peas in Europe? Brits eat on average 9,000 peas per year and there are approximately 700 British pea farmers.

July Special Days
Again, there are a plethora of these which will provide you with a rich source of potential content for your July social media posts throughout the month. It is, of course, Independence Day in the USA on 4 July though Canada Day on 1 July or Bastille Day in France on 14 July might be more relevant to you.
A few of my personal favourites in July include:
National I Forgot Day, 2 July (could be any day for me though!)
International Plastic Bag Free Day, 3 July
Alice in Wonderland Day, 4 July
World Chocolate Day, 7 July #WorldChocolateDay
Teddy Bear Picnic Day, 10 July
National I Love Horses Day, 15 July (every day of the year for me!)
World Emoji Day, 17 July #WorldEmojiDay
24/7 Samaritans Awareness Day, 24 July
World Hepatitis Day and World Nature Conservation Day, 28 July
World/International Friendship Day, 30 July
Saint Swithin's Day is the 15 July and, according to tradition, whatever the weather is like on that day - whether rainy or sunny - it will continue for the next 40 days and 40 nights. This superstition is summarised in this rhyme:
St Swithin's Day, if it does rain
Full forty days, it will remain
St Swithin's Day, if it be fair
For forty days, t'will rain no more.
However, according to the UK Met Office, there has not been a record of 40 dry or 40 wet days following St Swithin's Day since records began in 1861!
We've triple checked these to make certain they are accurate for 2018 as it's amazing how much different sites vary when you try to verify these.
More July Social Media ideas
There are lots more of these days in our Planner. In addition, there are also two pages of quotes you can use on their own or with your own image. There's also a whole page of famous people's birthdays that might help you too.
We do have quote images for July that you can purchase from us if you're short of time. You just need to add your logo! Find out more and preview them here.
I hope these July social media ideas help you create a varied and interesting plan for the month.
Remember, there are loads more ideas to choose from in our monthly Planner!
Takeaway Tip:
Use special holidays and events in your social media to help you plan your month's posts!
Use special holidays and events in your social media to help you plan your month's posts!
Click To Tweet
If you like the images in our blogs, similar images are available for you to buy and download from our Collection, together with instructions on how to make your own images in our How-To section.
And remember, I'd love to hear from you, so please leave a comment below or in Social Media Made Stylishly Simple our free Facebook Group.