How often should you post on social media?
A question I'm often asked!! It does vary from social media network to network. In the end, how often you decide to post on social media is really your decision based on your goals and the time you have available.
You'll hear lots of different opinions from various social media ' gurus'.  In my experience, many of these are just not realistic. Annoyingly, I also find that many of these gurus don't practice what they preach! Posting on Twitter 15 times a day might be achievable if that's the only platform you're using but is it really growing your social media presence and winning new customers?  Most business owners I know just don't have time to post this often….after all, we do have businesses to run!
The key, as I've said before, is to be consistent and not just treat it as a gym membership. You know the one. You are full of enthusiasm when you sign up at the beginning of January but then, after a few weeks, never go back again!
If you're serious about social media, you just can't treat it in that way.
What's best for each social network?
Sammy and I have put together an infographic with our suggestions of how often you should post. Remember two important guidelines:
You don't need to post on all the networks - choose the ones where your customers are;
Use the 80/20 Rule - ideally, only 1 in 5 of your posts should be promotional and the rest helpful content around your niche or areas of interest.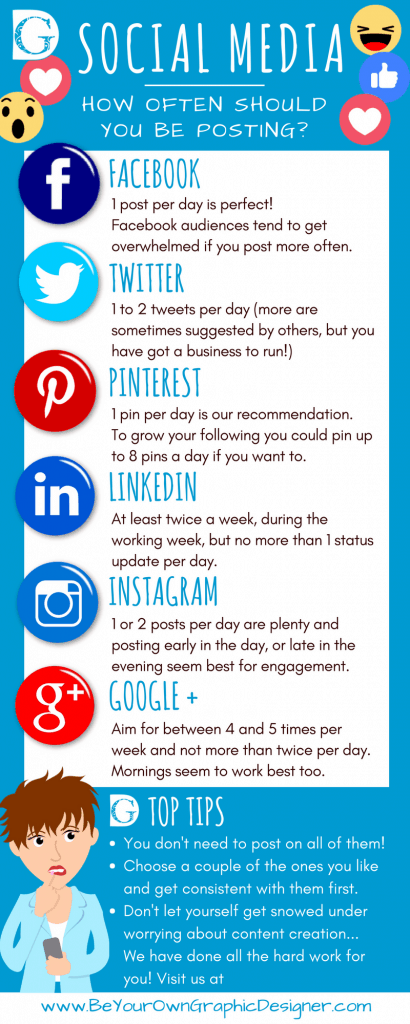 How do you make sure you don't fall by the wayside?
First, use a social media content calendar.
In my blog A Beginner's Social Media Recipe in just 12 Steps, I suggested that one easy way to work out how often to post was to create a content calendar each week with a daily theme.  For example,
| | | | | | | |
| --- | --- | --- | --- | --- | --- | --- |
| Monday | Tuesday | Wednesday | Thursday | Friday | Saturday | Sunday |
| Ask a question | Tip or strategy on your topic | Share news article | Blog, Customer spotlight or case study | Free report or other lead magnets | Inspirational Quote | Take a break! |
Need inspiration for what to say?
Our Monthly Social Media Planners have everything you need to make your Social Media awesome! With our Social Media Planners, you'll never be without an idea of what to say again. You'll know what, where, and when to post on social media to attract your ideal clients every day.
The April Planner is ready now and has over 300 ideas for you to try!  You can buy your Planners for just £9.50 a month. So you don't feel overwhelmed, we'll send the next month's planner to you in the first week of the previous month. For example, May's Planner would be sent to you during the first week of April, June's Planner the first week of May and so on.  Click this link to find out more.
Takeaway Tip:
How often you post on social media is really down to you based on your goals and time available. The key is to be consistent!
How often you post on social media is really down to you based on your goals and time available. The key is to be consistent!
Click To Tweet
If you like the images in our blogs, these elements are all available for you to buy and download from our Collection, together with instructions on how to make your own images in our How-To section.