I hope the sun is shining wherever you are so you're all getting into the Summer mood. August is almost upon us so here are some ideas that will help you with your August social media marketing.
I'm posting this earlier than usual to give you time to plan and prepare in advance so you can hopefully have a relaxing Summer break!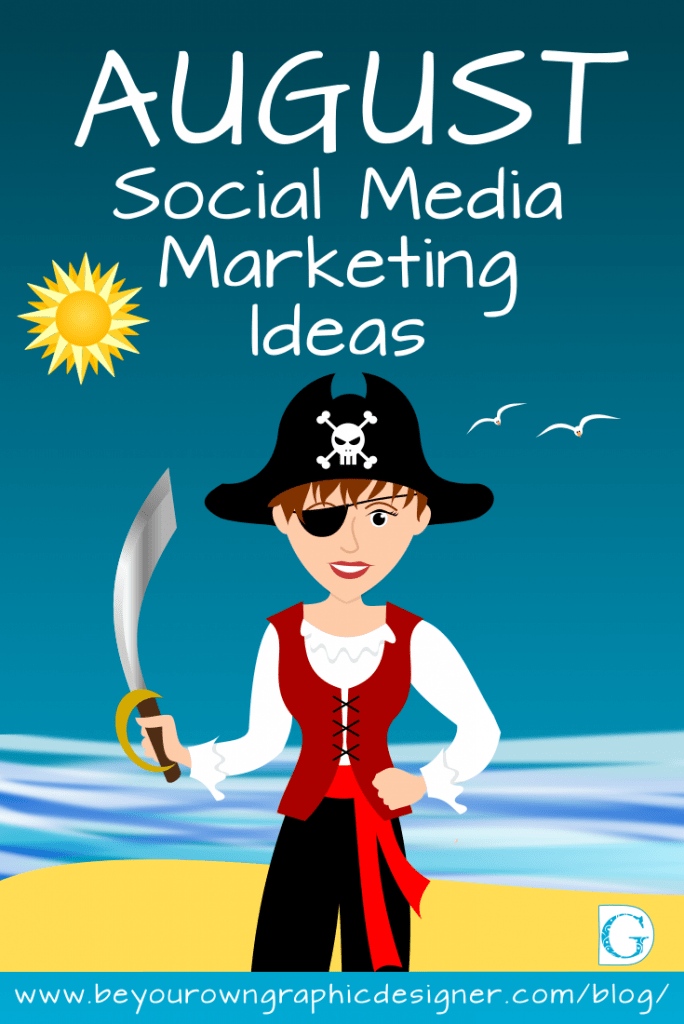 Why the Pirate?
Because it be Arrgust - International Pirate month, me hearties!

August Interesting Facts
As always lots of fascinating facts come out of putting together our Social Media Planners. So just a few pieces of August trivia for you:
The Romans gave this month its name in 8BC, after the first Roman Emperor Augustus who ruled from 27BC until his death in AD14.

Before then, the month had been known as Sextilis, as it was the sixth of ten months in the Roman Calendar, which began with March.

Lammas Day is celebrated on August 1st in the Northern Hemisphere and February 1st in the Southern Hemisphere. Depending on whether it is considered a Christian or a pagan holiday, it can either celebrate the coming harvest or the Celtic god Lugh – the master of skills.

August was the 55th most common name given to a baby boy in Sweden in 2014. Statistics show that only 22 per cent of men named August in Sweden were born in August.

In 2009 the Icelandic Naming Committee declared August unacceptable as a child's name. Augustus is also not allowed.
I decided the Iceland fact needed further investigation and discovered that the Icelandic Naming Committee governs the introduction of all new names!
The Committee maintains an official register of approved names. Names must be compatible with Icelandic grammar, in which all nouns have gender and change their forms according to their case system. In addition, names also must contain only letters occurring in the Icelandic alphabet. Finally, with only a few exceptions, a name's gender must match the sex of the person.
This is all probably just about manageable with Iceland's population of fewer than 400,000 people!

12 August Monthly Special Themes
In every Planner, we add lots of different Monthly Holidays to help you find a theme that will suit your business. As with last month, there are two pages of these in our August Social Media Planner. Here are just twelve of them, including my favourite - International Pirate Month!
Awareness in August - speaking and thinking positively about people in your life

Arrr-gust: International Pirate Month

Children's Vision & Learning Month

Edinburgh International Festival, August 3-27

Family Fun Month

National Eye Exam Month

Goat Cheese Month

National Immunization Awareness Month

National Peach Month

Water Quality Month

Psoriasis Awareness Month

Romance Awareness Month.
Who can possibly resist Arrr-gust? Get swashbuckling, me hearties!!
Several of these events are linked to charities so you could just choose one to support for the month.

12 Weekly Special Themes for your August Social Media
Not sure you want to commit to supporting a particular theme for a month? There are loads of amazing themed weeks in August. Here are just 12 of them that particularly appealed to me but you can find loads more in our August Social Media Planner.
National Scrabble Week, July 31 – August 5

Simplify Your Life Week, August 1-7

National Eisteddfod of Wales, August 3-11

Great British Beer Festival, August 7-11

British Showjumping National Championships, August 7-12

National Farmers' Market Week, August 7-13

Weird Contest Week, August 12-18

National Allotment Week, August 14-20

Afternoon Tea Week, August 14-20

National Motorcycle Week, August 14-20

Caribbean Food Week, August 21-28 #CFW2018

World Water Week, August 26-31.

August Special Days
Again, there are a plethora of these which will provide you with a rich source of potential content for your August social media posts throughout the month.
A few of my personal highlights include:
International Friendship Day, August 6

International Cat Day #InternationalCatDay, August 8

Dalek Day, August 8 - one for Dr Who fans

World Elephant Day #WorldElephantDay, August 12

International Lefthanders Day, August 13

World Honey Bee Day, August 18

Coco Chanel Day, August 19

World Photo Day #WorldPhotoDay, August 19

National Tooth Fairy Day, August 22

Notting Hill Carnival, August 27

More Herbs, Less Salt Day, August 29

International Cabernet Day, August 30.
We've triple checked these to make certain they are accurate for 2018 though I can't guarantee they're all accurate. This is because so many different sites have conflicting information when you're trying to verify these.
There are lots more of these days in our August Social Media Planner.  Also, two pages of quotes you can simply post as words or use with your own image. We do have ready-made quote images for August that you can buy from us if you're short of time. You just need to add your logo and website address! Find out more and preview them here.
Because August seems to be a popular birthday month, I've included two pages of famous people's birthdays. For example, did you know that Meghan Markle (Duchess of Sussex), Barack Obama, Louis Armstrong, Louis Vuitton, and Elizabeth the Queen Mother were all born on August 4? Or that Billy Ray Cyrus, Tim Burton, Sean Connery, Gene Simmons, Elvis Costello, Van Johnson, Tom Hollander, and Ivan the Terrible were born on August 25?
I hope these August social media ideas will help you create a varied and interesting plan for the month.
Remember, there are loads more ideas to choose from in our monthly Planner!
Takeaway Tip:
Use special holidays and events in your social media to help you plan your month's posts!
Use special holidays and events in your social media to help you plan your month's posts!
Click To Tweet
If you like the images in our blogs, similar images are available for you to buy and download from our Collection, together with instructions on how to make your own images in our How-To section.
And remember, I'd love to hear from you, so please leave a comment below or in Social Media Made Stylishly Simple our free Facebook Group.