July 2021 Content Ideas and Inspiration
Halfway through the year now, we're in July, a new month and a new chance for our goals and aspirations, as Oprah Winfrey would say.
"Cheers to a new month and another chance for us to get it right" –
Oprah Winfrey.
"Cheers to a new month and another chance for us to get it right" - Oprah Winfrey
Click To Tweet
Other than your goals and aspirations, July is the month to relax, enjoy the sun and eat a lot of delicious food, especially if you do a barbecue in your garden with your friends and family!
I think one of my favourite July quotes is this one:
"Live in each season as it passes: breathe the air, drink the drink, taste
the fruit" - Henry David Thoreau.
"Live in each season as it passes: breathe the air, drink the drink, taste the fruit" - Henry David Thoreau #julycontent ideas
Click To Tweet
As usual, we're also including our free downloadable calendar with at least one special, celebratory or sometimes just weird event for every day of the month. Carry on reading and scroll down to sign up for your copy!
July 2021 Monthly Events

I've picked 10 interesting themes that you could use for your social media for July but there are lots more you could choose from:
Adopt a Rescued Rabbit Month
Group B Strep Support (GBSS) Awareness Month
Anti-Boredom Month
Baked Bean Month
National Cell Phone Courtesy Month
National Culinary Arts Month
Feminism Month
Horseradish Month
National Hot Dog Month
National Ice Cream Month
As always, an interesting combination of serious issues and fun this month.
Fun Facts
The month of July is named after Julius Caesar by a decision of the Roman Senate in 44BC as July was the month of his birth.
Before that, it had been known as Quintilis (fifth) as it was the fifth month in the old calendar.
Until the 18th century, the word July in English had the stress on the first syllable and rhymed with duly or truly.
Although six months have passed, July 1 is not the mid-point of the year. The exact halfway point comes at 1pm BST on July 3 in a non-leap year.
No month ends on the same day of the week as July unless it's a leap year when January does.
July is the warmest month in the Northern Hemisphere on average. It is similar to January in the Southern Hemisphere.
Sometimes the hot, long days of July are called the "dog days of summer".
July's birthstone, the ruby, is often associated with contentment, love, passion, and integrity.
July 2021 Weekly Events

I think my favourite weekly event for July has to be:
National BBQ Week, July 2-11 2021 in the UK when Covid restrictions are scheduled to be lifted.
Here are ten other weekly events in July that might appeal to you or have links to your business include:
School Diversity Week, July 2-6
Wimbledon Fortnight, July 3-16
Sarcoma Awareness Week, July 3-9
Nude Recreation Week, July 9-15
Great British Pea Week, July 9-15
National Farriers Week, July 10-16
British Festival of Archaeology Fringe, July 15-30
National Zookeeper Week, July 15-21
Captive Nations Week, July 16-22
Everybody Deserves A Massage Week, July 16-22
Remember, there are plenty more for you to choose from that might be more appropriate to your business or interests.
July 2021 Special Days

Many countries have their Independence Day during July. These include the United States, Belarus, Venezuela, Argentina, Belgium, the Bahamas, and the Maldives. The national days for France and Canada occur in July as well.
USA Independence Day - 4 July.
A month with a diverse selection of events so everybody can find their favourite:
World UFO Day - 2 July
World Chocolate Day - 7 July
Snake Day - 16 July
World Jump Day - 20 July
World Tequila Day - 24 July
International Red Shoe Day - 25 July
World Nature Day - 28 July
International Tiger Day - 29 July
International Friendship Day - 30 July
Avocado Day - 31 July
There are holidays for every business and personality and, as a result, there are loads to choose from and I'm sure you'll find some that are perfect for your business!
You can look up hundreds of fun holidays online to connect with your followers. Just type in 'special events' or 'holiday days' in your search engine of choice! Be careful to add the year, though, as many of these events change each year.
The alternative is to follow our new blog series every month. We plan to publish August's suggestions at the end of June, September's at the end of July, and so on. This way you'll have time to prepare your content in advance. If you join our mailing list, you'll get a reminder each month and a link to the new blog.
Also, to make it easy for you, we've put the most engaging ideas in a free downloadable one-sheet content inspiration calendar. A minimum of one idea a day but we couldn't resist adding extras to give you plenty of choices! We add a calendar sheet every month for you to download.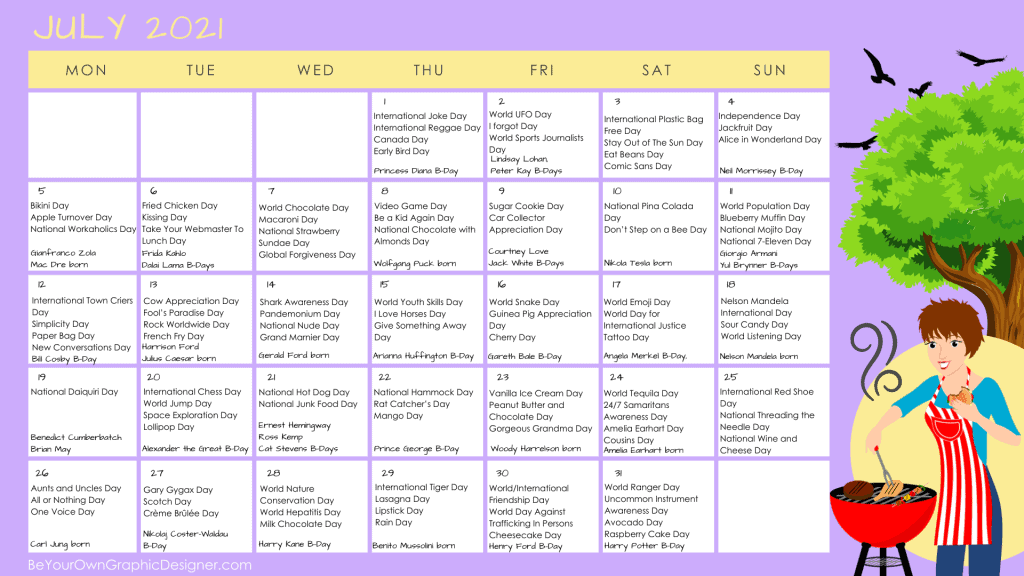 To get your copy of this high-resolution printable PDF, you'll need to click the button below to sign up to our mailing list and then your July Content Ideas Calendar will wing its way to your mailbox! We'll also send the next month's calendar for you to download as soon as it's available.
Of course, if you need images to add to your social media posts or blogs, don't forget to look at the wide range of images we have available in The Collection!