April 2021 Content Ideas and Inspiration
The first weekend of April 2021 is all about Easter! What is essentially a religious holiday has been somewhat hijacked by Easter Eggs in the UK and many other countries with all types of delicious chocolate eggs.
As usual, we're also including our free downloadable calendar with at least one special, celebratory or sometimes just weird event for every day of the month.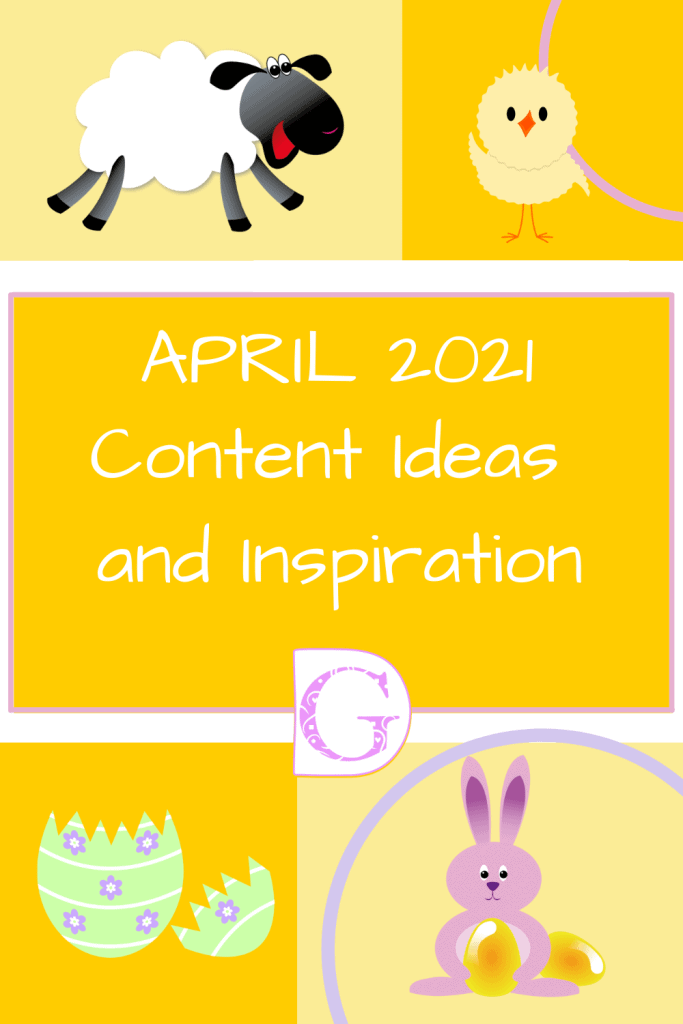 April is also about new life, spring and fertility and is particularly welcomed in Europe. Here are just a few of the quotes I found about April in different places around Europe:
"Oh, to be in England now that April's there." Robert Browning
"April in Paris, chestnuts in blossom, holiday tables under the trees." E. Y. Harburg
April 2021 Monthly Events

I've picked out 10 themes that you could use for your social media for April but there are lots more you could choose from:
National Poetry Month
Sexual Assault Awareness Month (SAAM)
IBS Awareness Month
International Guitar Month
National Garden Month
Autism Awareness Month
Mathematics Awareness Month
National Humour Month
Stress Awareness Month
National Pet Month.
An interesting combination of serious issues and fun this month.
Fun Facts

There are lots of fun and interesting facts linked to April, particularly Easter, and my research led me to loads of information on traditional but not religious activities.
Hot cross buns
The origins of these are fascinating and go back to Saxon times! The fertility goddess was represented by an ox. At the feast of Eostre, an ox was sacrificed and its crossed horns became a symbol of the season carved into the bread. The word 'bun' derives from the Saxon word 'boun' meaning 'sacred ox'.
Easter lilies
It's believed that the lily, because of its shape, was associated with the reproductive organs, and therefore with fertility.
Easter Bunny
The earthly symbol for the Norse goddess Eastre, goddess of the dawn, was the rabbit and was a symbol of new life.
Historians believe the legend of the Easter Bunny originated in Germany before arriving in the New World in the seventeenth century. Children believed (and still do!) the Easter Bunny would leave them coloured eggs if they were good, and left out their Easter bonnets and caps for the gifts.
Easter eggs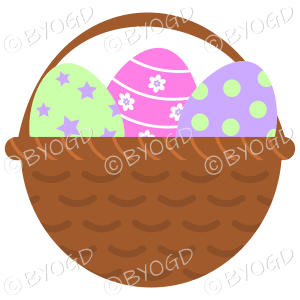 Long before Christianity was introduced, eggs were painted with bright colours to celebrate the sunlight of spring.
Decorating and colouring Easter eggs was a popular custom in the middle ages, and throughout Europe, different cultures have evolved their own styles and colours. In Greece, crimson-coloured Easter eggs are exchanged, whereas in Eastern Europe and Russia silver and gold decorations are common, and Austrian Easter eggs often have plant and fern designs.
The chocolate Easter egg
The chocolate Easter egg has now developed from the simple type wrapped in paper to an amazing variety wrapped in all sorts of beautifully designed packaging.
The first chocolate Easter eggs were made in France and Germany in the early 19th Century. A type of eating chocolate had been invented a few years earlier but it couldn't be successfully moulded. John Cadbury made his first 'French eating Chocolate' in 1842 but it was not until 1875 that the first Cadbury Easter Eggs were made. The growth of the chocolate Easter egg market was very slow until a method was found of making chocolate flow into moulds.
The modern chocolate Easter egg with its smoothness, shape and flavour owes its progression to the two greatest developments in the history of chocolate - the invention of a press for separating cocoa butter from the cocoa bean by the Dutch inventor Van Houten in 1828 and the introduction of a pure cocoa by Cadbury Brothers in 1866. The Cadbury process made large quantities of cocoa butter available and this was the secret of making moulded chocolate or indeed, any fine eating chocolate.
For those of you unfamiliar with the incredibly popular Cadbury Creme Egg, it is thick egg-shaped chocolate with a sweet white and yellow soft fondant filling. The filling looks like the white and yolk of a soft boiled chicken's egg. In the UK, the Creme Egg is the best selling confectionery item between New Year's Day and Easter. It has annual sales in excess of 200 million and a brand value of approximately £55 million!
April 2021 Weekly Events

A few of the other weekly events in April that might appeal to you or have links to your business include:
World Autism Awareness Week, March 29-April 4
National Library Week, April 6-12
World Homeopathy Awareness Week, April 10-15
Animal Cruelty/Human Violence Awareness Week, April 18-24
English Tourism Week, 18-24 April
MS Awareness Week, April 20-26
National Stationery Week, April 20-25
Allergy Awareness Week, April 20-25
World/European Immunization Week, April 24-30.
Remember, there are plenty more for you to choose from that might be more appropriate to your business or interests.
April 2021 Special Days

Let's take a look now at some of the fun (or serious) individual days that are celebrated throughout April with just a few of my favourites:
April Fool's Day - 1 April
Good Friday and Children's Book Day - 2 April
Easter Day - 4 April
National Gin and Tonic Day - 9 April
National Pet Day - 11 April
Wear Pyjamas to Work Day - 16 April (easy to do in this era of Coronavirus!)
International Bat Appreciation Day - 17 April
St George's Day and World Book Night - 23 April
ANZAC Day - 25 April (for my friends in Australia and New Zealand)
International Dance Day - 29 April.
There are holidays for every business and personality and, as a result, there are loads to choose from and I'm sure you'll find some that are perfect for your business!
You can look up hundreds of fun holidays online that you think will amuse, entertain or engage your followers. Just type in 'special events' or 'holiday days' in your search engine of choice! Do be careful to add the year though as the dates of many of these events change each year.
The alternative is to follow our new blog series every month. We plan to publish May's suggestions at the end of March, June's at the end of April, and so on. This way you'll have time to prepare your content in advance. If you join our mailing list, you'll get a reminder each month and a link to the new blog.
Also, to make it easy for you, we've put the most engaging ideas in a free downloadable one-sheet content inspiration calendar. A minimum of one idea a day but we couldn't resist adding extras to give you plenty of choice! We'll be adding a calendar sheet every month for you to download.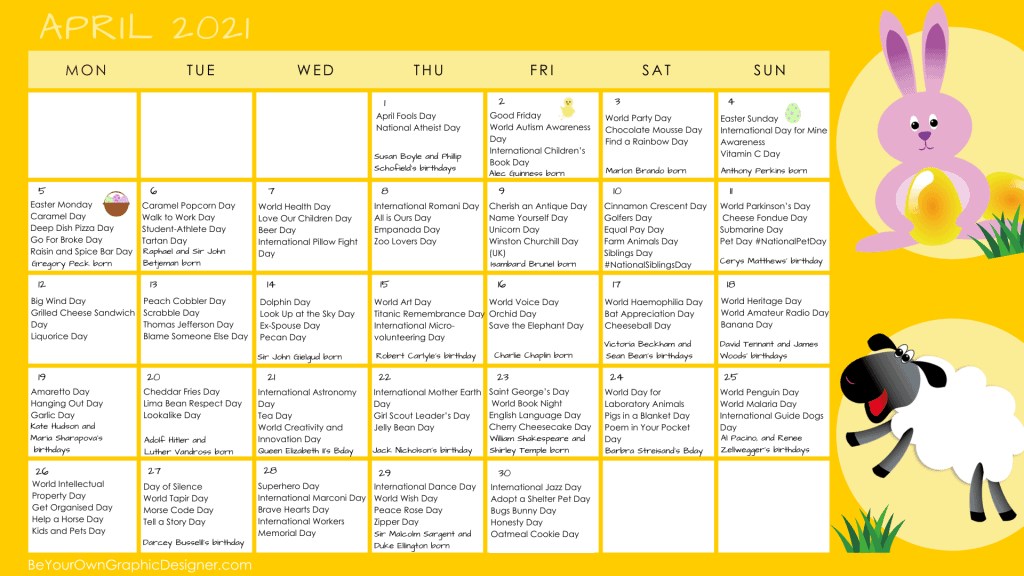 To get your copy of this high-resolution printable PDF, you'll need to click the button below to sign up to our mailing list. Your April Content Ideas Calendar will wing its way to your mailbox! We'll also send the next month's calendar for you to download as soon as it's available.
Of course, if you need images to add to your social media posts or blogs then don't forget to take a look at the wide range of images we have available in The Collection!