Canva Quick Tips - Canva Draw Tool
Did you know that Canva now has a Draw Tool/App? This video was a challenge for me to do as you'll see because I literally can't draw a straight line! That's a lot of the reason why I started Be Your Own Graphic Designer as already drawn images are perfect for me.
Anyway, you'll see my attempts below but if you can draw, you'll love this new app!
Transcript - Canva Draw Tool
This week's Canva Quick Tip is how to use the Draw tool. This is a relatively new app in Canva and, at the time I'm recording this, is still in beta, which means it may have changes in the future. But, let's see how to use it now.
Where to find the Draw Tool
To find the Draw app you would need to go over to your left-hand column. Scroll down and go to More. This is the app that I want. It's at the top because I've used it before and loaded it. Usually, you might have to scroll all the way down to find it at the bottom of the Canva apps. Just go and click on it.
You can see it's being added, and here you have the brushes that you can use to get started. And, there are four different brushes - a pen, a marker, a glow pen, and a highlighter. You also have options to change the size of the brush that you're using and the transparency. And, of course, you can set all sorts of different colours.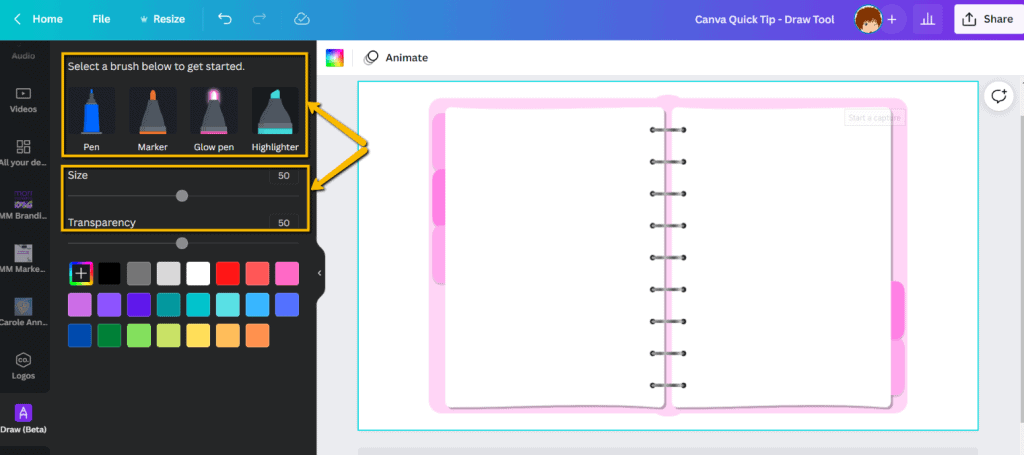 How to Use the Draw Tool
I'm going to start with a pen, and this is where you're going to see that I can't draw a straight line. I really am not an artist. But, being your own graphic designer with the images that we have, means I don't need to be. What I'm going to do is now take the pen, and I'm going to draw a line, hopefully. Oh, I did say I couldn't draw a straight line, and I've proved it.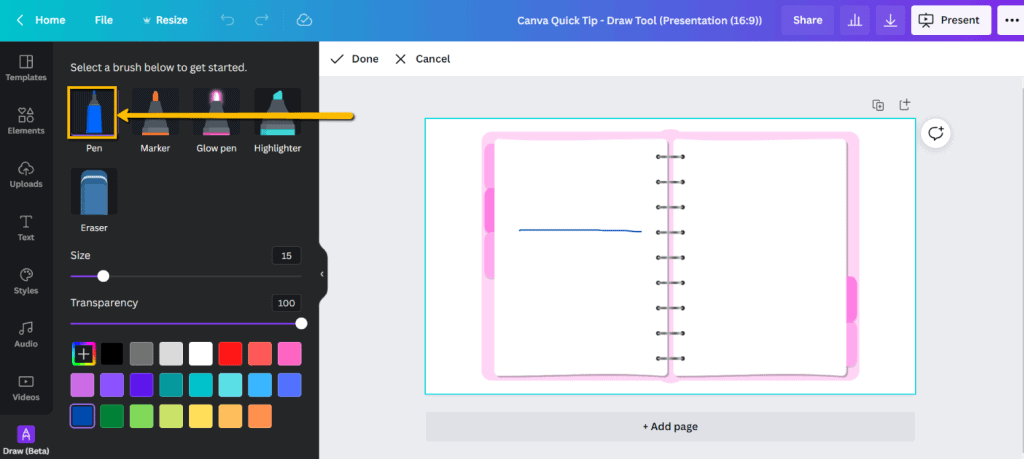 I'll now try the marker, at different thicknesses, so you can see.
Canva Draw Marker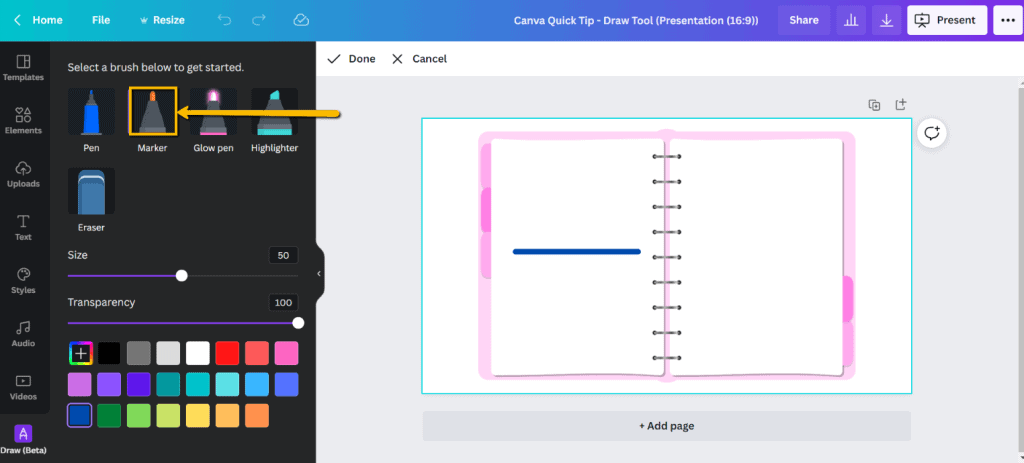 Canva Draw Glow Pen
Then, the glow pen. This is a fun feature. Some squiggly lines.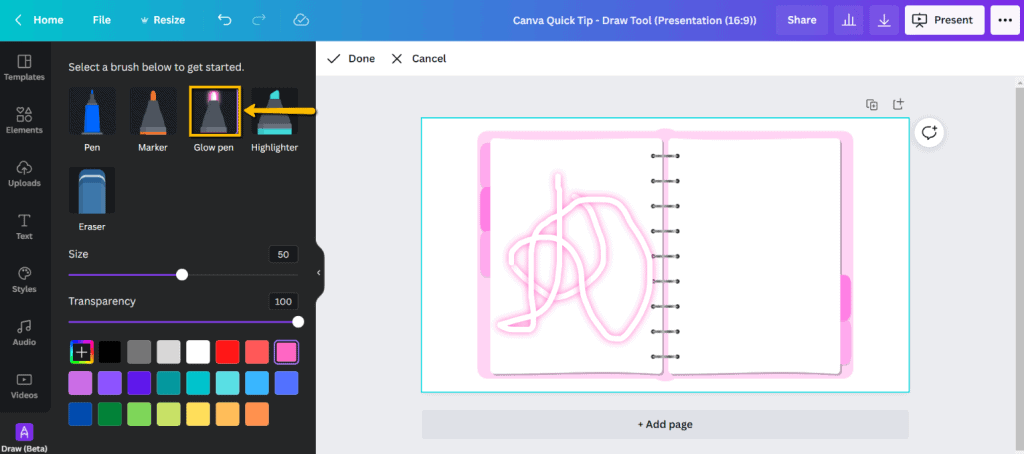 Canva Draw Highlighter
And, then, finally, there's a highlighter. It's a nice big block. All these settings, you need to set before you start. So, I'll now go for a smaller highlighter in a different colour. So, I'll go for orange. Shot up to 70. I need to take it down. And, you can see it's a much smaller line. Hopefully, this gives you an idea of what you can use.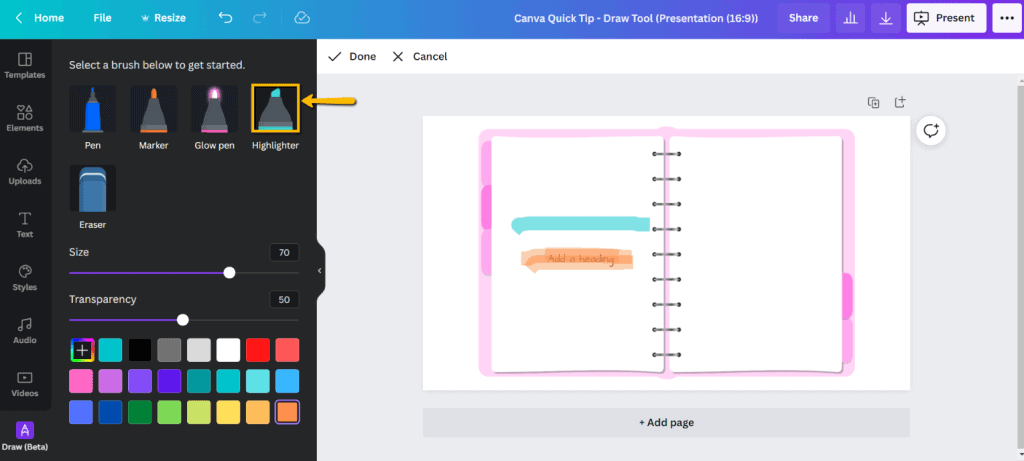 Canva Draw Eraser
There's also another great feature, which I've used quite a lot in making this video, which is the eraser. And again, you have different size options for this, but you can adjust the size that you have. That's at 50%. If I take it up to 100, then I have a really nice big block and I can just take everything out. That's how simple it is to use.
What you need to do at the end is click Done, and your drawing saves as an image. And, then, we'll scroll it down or up. You can move it around. I hope you have fun using it. I've been doing this with a mouse, but if you have a drawing pad, you can connect that, and then use it and do all sorts of drawings.
This feature's available in both the Canva free and Canva Pro account. If you need a place to source images, then check out our website though many of them are available on Canva directly. There's a link to the website in the YouTube description and also a link to try Canva Pro for free for 30 days.
I hope you find this useful and it helps you create your content with the great one-stop design app that Canva has become.
Don't forget to subscribe to our YouTube channel for more of these Quick Tip videos.
Happy designing!